Heart Valve Repair & Replacement
If you or your loved one has been diagnosed with heart valve disease, you may need a valve repair or replacement.
The heart has four valves - one for each chamber of the heart. Valves control the flow of blood between the four chambers and into blood vessels.
Over time, or even at birth, these valves can become damaged, reducing blood flow (stenosis) or allowing blood to flow backwards (regurgitation).
The improper blood flow can lead to other medical complications, including arrhythmia, heart failure and stroke.
At the UM Capital Region Heart and Vascular Institute, our heart surgery team are experts at performing valve surgeries, including minimally invasive options. To learn more about our program or to make an appointment, call 240-677-0248.
Valve Disease Symptoms
Many people with valve disease show no symptoms. When symptoms do present, they may include:
Chest pain
Dizziness or fainting
Fatigue
Irregular heartbeat
Shortness of breath, especially when active
Swelling of the ankles
Diagnosing Valve Disease
Should you have any of these symptoms, our team will use advanced testing and diagnosis options to help find out what is causing them. We'll work with you on a treatment plan based on these results.
Treating Valve Disease
Though you can have disease in any of the four valves, it is most common for adults to experience mitral or aortic valve disease.
Mitral Valve Repair
Mitral valve repair is the most common heart valve surgery and is usually needed because of leaking (regurgitation). It can also have narrowing (stenosis) which leads to reduced blood flow.
Our surgeons will make repairs to your valve to return it to normal function. This could be sewing in a new ring to support the valve's frame, trimming the disease portion of the valve or reconstructing parts of the valve.
In rare cases, we may not be able to repair the valve and will need to perform mitral valve replacement. Our surgeons will talk through all options to make sure we take the best approach for you.
Aortic Valve Replacement
Aortic valve replacement is most commonly needed because of stenosis, though it can be for regurgitation or other causes.
Aortic valves are more commonly replaced than repaired; when operating on this valve, success rates are much higher with replacement. We will replace your valve with either a mechanical or tissue valve.
Transcatheter Aortic Valve Replacement (TAVR)
TAVR is a catheter-based procedure, meaning we will use tiny tubes inserted into the leg to access the heart. This avoids open-heart surgery, which comes with more risks and a large incision in the chest.
Our team will discuss with you whether or not this is an option for you.
Make An Appointment
To make an appointment with our heart surgery team, call 240-677-0248.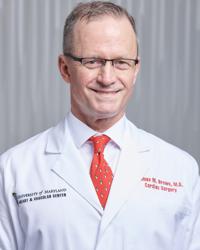 Associate Professor of Surgery & Medical Director of the Heart and Vascular Institute