In Prince George's County, heart disease is the leading cause of death. At times, heart surgery is necessary to save and prolong life.
Having someone experienced in the latest approaches to treating a variety of heart conditions is important. More important is knowing that your surgical team has the ability to help.
At UM Capital Region Health, our heart surgery team has trained with one of the nation's best cardiac surgery programs and is ready to help you with a range of surgical procedures.
We are particularly skilled at performing coronary artery bypass surgery, ranking in the top 10% in the country.
To learn more about our program, please call us at 240-677-0248.
Conditions We Treat
No matter your condition, our team will create a treatment plan specific to your needs. Our heart surgery team has years of experience treating the most complex cases. We know in order to have the best results, we must provide each patient with their own care plan.
Aortic Aneurysms & Dissections
When the aorta, the body's largest artery, becomes enlarged or bulges, this is an aortic aneurysm. When this condition is caught early, it can be safely treated. If the aneurysm causes a tear in the aorta, this is called an aortic dissection and is a medical emergency.
Our cardiac surgery team works with our vascular surgeons to treat both diseases.
Atrial Fibrillation (AFib)
AFib is the most common irregular heartbeat (arrhythmia). It can cause blood flow to slow down, increasing the risk of blood clotting and causing a stroke.
Our team treats AFib with ablation, a way to alter abnormal heart cells by heating or freezing them. Our team also performs CryoMaze ablations, a less invasive approach to treating AFib.
Coronary Artery Disease
Coronary artery disease kills more men and women in the United States than any other disease. While the death rate is high, it is treatable when diagnosed in time.
Bypass surgery is a procedure we perform commonly and our patients have positive outcomes. Our program was ranked by the Society of Thoracic Surgeons in the nation's top 10%.
Our team is very experienced performing coronary artery bypass grafting (CABG), which creates a new pathway for your blood to reach your heart and help you regain the ability to perform everyday tasks.
Valve Repair or Replacement
Patients who have trouble pumping blood through their bodies may need their valves repaired or replaced. Patients most commonly have difficulty with the mitral and aortic valves. Our team uses the latest valves on the market, including mechanical and tissue options.
Our surgeons and cardiologists also offer minimally invasive options, including transcatheter aortic valve replacement (TAVR).
Heart Failure & VADs
Heart failure develops slowly over time, and there are a number of ways to treat it. Patients with end-stage heart failure may need a heart transplant.
Ventricular assist devices (VADs) help patients who are waiting for a new heart. The device takes over the heart's pumping ability, allowing patients to live long enough to receive a new heart. Our surgeons can implant the device through traditional surgery or minimally invasive options.
Live Greater Podcasts
Our Locations
Our team sees patients for pre-surgery consultations at UM Capital Region's offices in Bowie.
Surgeries are performed at UM Capital Region Medical Center in Largo, where we have a dedicated cardiac operating room and recovery wing.
Make an Appointment
Make an appointment with our heart surgery team by calling 240-677-0248.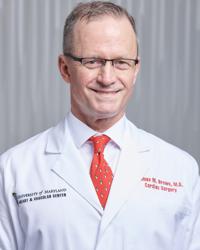 Associate Professor of Surgery & Medical Director of the Heart and Vascular Institute