An aortic aneurysm is a bulge in the aorta, the major blood vessel for carrying blood from the heart to the rest of the body.
Over time, this bulge can lead to a tear which results in life-threatening problems like aortic rupture or aortic dissection. Both are medical emergencies.
Aortic aneurysms are treatable. In fact, we now have a range of treatment options which include less invasive procedures. Heart and vascular surgeons work as a team to develop the best treatment plan for each patient.
To make an appointment or to learn more about how the UM Capital Region Heart and Vascular Institute treats aortic aneurysms, call 240-677-0248.
Aortic Aneurysm Symptoms
Aortic aneurysms develop slowly over time and often show no symptoms. They can occur in three different ways:
In the chest (thoracic aortic aneurysm)
In the abdomen (abdominal aortic aneurysm)
A combination of the two (thoracoabdominal aortic aneurysm)
Because this condition often shows no symptoms, screening is important. Risk factors include:
Family history of aortic disease
Former or current smokers
History of heart disease
High blood pressure or HTN
Males 65 to 75
Obesity
Diagnosing Aortic Aneurysms
Aneurysms are diagnosed best with cutting-edge imaging procedures. Our facilities have advanced diagnostic technology, helping us to see exactly what is going on inside your body without having to make an incision. Based on what we learn, we will suggest treatment options, including medication and surgical procedures.
Treating Aortic Aneurysms
At the UM Capital Heart and Vascular Institute, we evaluate each patient to find the best treatment option. Things we consider include:
Location of the bulge
Risk of surgery
Size of the bulge
Severity of symptoms
Smaller aneurysms don't require surgery, but close observations is required to make sure they don't quickly grow and put you at higher risk for a tear.
When it is time for surgery, our heart surgeons and vascular surgeons will discuss option with you, including minimally invasive options when possible. We want to provide the best long-term outcomes for you; our teamwork and expertise allow us to customize our approach for each patient.
Make an Appointment
To make an appointment with one of our aortic aneurysm specialists, call 240-677-0248.
Live Greater Podcast Episodes
Heart Surgeon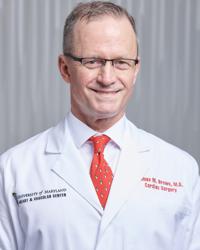 Associate Professor of Surgery & Medical Director of the Heart and Vascular Institute
Vascular Surgeons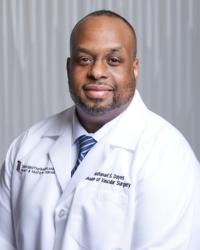 Clinical Associate Professor of Surgery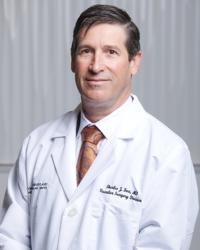 Associate Professor of Surgery