A physiatrist, also known as physical medicine and rehabilitation (PM&R) physician, diagnoses and treats pain in patients of all ages with a wide variety of medical conditions and injuries.
Physiatrists are medical doctors who care for patients with pain stemming from the brain, spinal cord, nerves, bones, joints, ligaments, muscles and tendons.
They complete subspecialty training that may include brain injuries, hospice and palliative medicine, neuromuscular medicine, pain medicine, pediatric rehabilitation, spinal cord injuries and sports medicine.
How a Physiatrist Can Help You
At University of Maryland Orthopaedics, our physiatrists:
Create tailored treatment plans designed to improve function and pain
Work collaboratively with neurologists, orthopedic surgeons, neurosurgeons, physical therapists, occupational therapists, speech therapists and primary care physicians
Prescribe medications, braces, splints and other assistive devices
Perform ultrasound-guided procedures
Use innovative regenerative medicine techniques
Regenerative Medicine
This strategy, which harnesses the body's healing powers to treat injuries and conditions, can relieve pain and restore function lost due to age, injury, disease or damage, especially when combined with traditional therapies. Learn more about the specific types of regenerative medicine University of Maryland offers.
Spine Physiatrist
Our non-operative spine physiatrist, Dr. Jay Karri, cares for patients with a range of spinal conditions, such as chronic lower back pain, sciatica, neck pain, osteoarthritis, fractures, strains, spinal cord injury, muscle and ligament injuries and more.
Dr. Karri offers a variety of treatment options, including interventional spine procedures, ultrasound-guided musculoskeletal injections, electromyography/nerve conduction studies, epidurals and rehabilitation.
Sports Medicine Physiatrist
Our non-operative sports medicine physiatrist, Dr. Idris Amin, treats the full spectrum of musculoskeletal disorders for all types of patients—from the well-trained athlete to the casual jogger.
Dr. Amin takes a patient-centered approach that focuses on optimizing both function and quality of life. He prioritizes patient education and stresses injury prevention and healthy living. Dr. Amin utilizes his training in musculoskeletal ultrasound for both diagnostic applications and precise guidance of treatments for sports-related injuries and conditions.
Our Physiatrists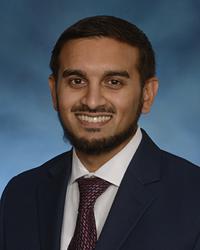 Assistant Professor of Neurology and Orthopedics