Radiation therapy is a form of cancer treatment that uses high-energy beams to shrink tumors and kill cancerous cells. It usually works together with medical and/or surgical cancer therapies.
Modern radiation therapy is quicker and safer than ever. Our technologies deliver radiation with pinpoint accuracy, avoiding damage to surrounding areas. Most treatments are done in an outpatient setting with some lasting just a few minutes so that you can get back to everyday life.
At the Requard Radiation Oncology Center in Easton, our team provides patients on the Eastern Shore with access to the latest therapies and technology in radiation therapy.
As a part of the Cancer Center at UM Shore Regional Health, we work with specialists from medical and surgical oncology, among others, to develop a unique treatment plan for each of our patients to help them put cancer behind them.
To make an appointment or to learn more about our program, call 410-820-6411.
Our Radiation Oncology Specialists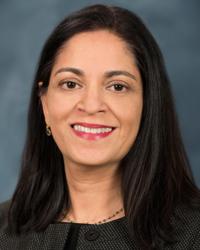 Associate Professor of Radiation Oncology
Medical Director, UM SRH Requard Radiation Oncology Center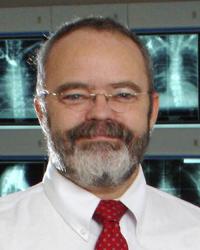 Clinical Associate Professor, Chief of Radiation Oncology/UM SRH
Our Therapies and Technology
At the Requard Radiation Oncology Center, right here on the Eastern Shore, our radiation oncologists use the best technology available.
External beam radiation therapy, the most common type of radiation therapy, directs radiation beams into the tumor. The machine we use is a Varian linear accelerator. Learn more about this therapy.
Three-dimensional treatment planning (3D-CRT) delivers radiation beams from different directions in order to match the shape of the tumor. This reduces radiation damage to normal tissues and more effectively kills the cancer.
Intensity-modulated radiation therapy (IMRT) is like 3D-CRT, but it also changes the intensity of the beams to deliver a more precise dose of radiation to the tumor while further reducing the amount of radiation to healthy surrounding tissue. Learn more about this therapy.
High-dose-rate (HDR) brachytherapy involves placing radioactive sources in or next to the cancer. Learn more about this therapy.
Stereotactic radiosurgery (SRS) isn't really surgery but a type of radiation treatment that uses a very fine and ultra-precise radiation beam to treat tumors in the head and spine. Learn more about this therapy.
Stereotactic body radiotherapy (SBRT) is the same technology as SRS except it is used to treat sites outside of the head and spine. Learn more about this therapy.
Image-guided radiation therapy (IGRT) is used to accurately align the patient prior to treatment based on each individual patient's internal anatomy.
On-site big bore CT scanner is used to determine the exact size, shape and location of the tumor and this information is used to create an individualized treatment plan.
Deep inspiratory breath hold (DIBH) has optical surface monitoring system (OSMS) for the treatment of thoracic tumors, breast cancer and lymphomas. This technology ensures the radiation beam is on only when patients are holding their breath, keeping the heart away from the tumor treatment field.
Access to More Treatment Options
We work closely with our colleagues at the UM Greenebaum Comprehensive Cancer Center (UMGCCC) and the Maryland Proton Treatment Center (MPTC) to provide our patients with access to additional state-of-the-art treatments available in downtown Baltimore. (At both locations, a concierge program helps you navigate the process and offers free valet parking.)
These include :
Radiation Oncology Clinical Trials
In addition, clinical trials, offer promising new therapies years before they are widely available. Eligible patients can take part of clinical trials conducted here and those at other UM Department of Radiation Oncology locations. View our active radiation oncology clinical trials.
Support During Cancer Treatment
We know that cancer care is more than just having access to advanced treatments. It can affect a person's life in more ways than one, and at the Cancer Center at UM Shore Regional Health, we give our patients access to a number of support systems, including diet and nutrition guidance, support groups, financial consultations and more.
Our dietician provides dietary education and treatment plans during radiation and ongoing monitoring to help patients manage side effects and recover optimally after radiation. Our social worker connects our patients with resources that help to minimize the ancillary challenges that arise as our patients navigate cancer treatments. At the Requard Radiation Oncology Center our doctors and nurses also have an excellent relationship with UMMS Shore Health Palliative care and local private hospice providers.
Learn about the different support services we offer.
Make an Appointment
To make an appointment or to learn more about our program, call 410-820-6411.