The Lung Screening Program offered by the Tate Cancer Center at UM Baltimore Washington Medical Center looks for lung cancer in high-risk patients, specifically smokers.
Lung cancer screening with a non-invasive, low-dose CT scan can find the disease early—before you have symptoms—when treatment is most successful.
Who should get screened for lung cancer?
Screening for lung cancer, the third most common cancer in the United States in both men and women, is recommended if:
You are age 50 to 80 years old
You do not have any signs or symptoms of lung cancer
You have a smoking history of at least one pack a day for 20 years
You are a current smoker or have quit within last 15 years
How do I schedule a lung screening?
If you meet all four of the above-mentioned lung screening requirements, or if you have a referral from your doctor or provider, call 410-553-8150.
If you are a provider who wants to refer a patient for a lung screening, call 410-533-8150.
Private insurance companies may have different screening guidelines, so please check with your insurance carrier about their guidelines before scheduling an appointment.
If you are not sure whether you need or qualify for a lung screening, you can take our Health Risk Assessment to determine what care may be appropriate for you.
What can I expect from this lung screening program?
The Lung Screening Program at UM BWMC offers comprehensive lung care, guidance and support for patients at high risk for developing lung cancer.
Prior to screening, our care team will discuss your health history with you, answering any questions you may have. You will have a one-on-one meeting with one of our specialists to learn more about our program and how it can help you. This meeting can take place virtually or in person in our Lung Screening Program office, located on the second floor of the Tate Cancer Center at UM BWMC.
Next, you will undergo a low-dose CT scan. This screening is done on the UM BWMC campus by Advanced Radiology in our Aiello Center and takes less than 15 minutes to complete. No blood work or injections are involved.
Results are reviewed by a radiologist. If you are diagnosed with lung cancer and need further treatment or surgery, you can receive care at the Tate Cancer Center.
What are the next steps after I receive my scan results?
If your results are negative
Our priority, regardless of the result of your screening, is your long-term lung health. If no cancer or other abnormalities are found during your screening, we will let you know when you can have your next scan so we can continue to monitor your lungs to catch any disease early. Our specialists will continue to keep in touch with you.
If your results are positive
Any abnormal findings from screenings are further reviewed by our care team, which includes thoracic surgeons, pulmonologists and radiologists. If you were referred by a physician, results from your screening will be given directly to that physician so they can discuss them with you. If you were self-referred, we will discuss the results with you directly.
Are lung screenings covered by insurance?
Lung screenings are covered by Medicare and most private insurance companies. Please ask your insurance provider if they cover this procedure.
If you do not have insurance and have questions about out-of-pocket costs for screenings, please call our office at 410-553-8150.
What if I don't qualify for a lung screening?
Younger patients who don't meet all four of the lung screening requirements but have other high risk factors may still qualify if they:
Have been exposed to potentially harmful environmental substances in their workplace

Have a prior cancer history
Have a family history of lung cancer
Patients with any of these conditions will need a referral from their doctor or provider to schedule a lung screening.
Meet Our Team
The Lung Screening Program at UM Baltimore Washington Medical Center is led by a team of lung experts dedicated to providing you the best care.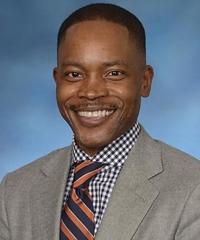 Visiting Assistant Professor of Surgery