Epilepsy Treatment for Women
Women living with epilepsy may encounter a variety of challenges and issues throughout life. The University of Maryland Women's Epilepsy Program was created to provide comprehensive, patient-centered care for women with seizures.
We are one of the only comprehensive epilepsy centers in the region to offer a specialized program geared to meet the needs of women with epilepsy.
Taking a Team Approach
The women's epilepsy care team includes neurologists who specialize in seizure evaluation and treatment.
We collaborate with your primary care physician, obstetrician/gynecologist and referring neurologist (if applicable) to provide a comprehensive approach to your care and to ensure smooth and clear communication.
Women's Epilepsy Program Director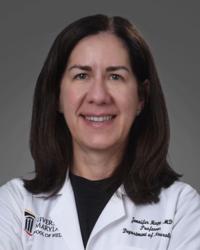 Professor of Neurology; Director, University of Maryland Epilepsy Center
Woman-Centered Care for Epilepsy
Your initial consolation will include an evaluation by one of our epilepsy specialists. This evaluation will classify and confirm the specific diagnosis of epilepsy and focus on how seizure medications should be adjusted to maximize and improve seizure control.
Throughout your care, we will address a variety of issues specific to women's health. These may include:
Seizures related to the menstrual cycle (catamenial epilepsy)
Family planning and contraception
Hormone replacement during menopause
Bone health
Associated mood and anxiety disorders
Social support and housing
Safety and care of newborns and children
Pregnancy and Epilepsy
During pregnancy, hormone and metabolism changes can affect your medication levels and frequency of seizures. If you are pregnant, we have a rapid referral track to have you seen quickly. At your visit, we will discuss the best medication and dosing to control seizures and reduce potential risks to the baby.

We monitor our patients closely. We take a collaborative approach with the obstetrics and gynecology (OB/GYN) department at University of Maryland and your OB/GYN if you see one outside of our system. We also offer counseling on folate supplementation, newborn care, breastfeeding and postpartum depression.
Make an Appointment
To make an appointment or to learn more about our program, call 410-328-4323.