Vincent Y. Ng, MD
Assistant Professor of Orthopaedics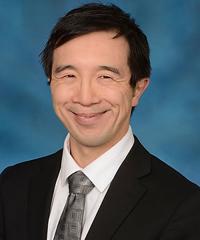 Specialties:
Orthopedic Oncology

Sarcoma and Connective Tissue Surgical Oncology

Orthopedic Surgery
Dr. Vincent Ng specializes in sarcoma surgery and highly complex bone and soft tissue tumor surgery.

Dr. Ng is an assistant professor of orthopedics at the University of Maryland School of Medicine. He was named a Top Doctor by Baltimore Magazine in 2016, 2017 and 2018 for his work in Orthopaedic Oncology.

He is fully board certified by The American Board of Orthopaedic Surgery and was ranked in the top 3% nationally on the written board examination in 2013.

Dr. Ng also helped organize the Bone Cancer and Soft Tissue Sarcoma Service at the Greenebaum Comprehensive Cancer Center, a multidisciplinary team of over 20 specialists designed to provide excellent care for patients with challenging diagnoses.

He is a member of multiple tumor boards and discusses optimal treatment strategies for difficult surgical cases on a weekly basis. He performs approximately 350 procedures per year and provides orthopedic oncology and total joint arthroplasty care at 10 different medical facilities in the greater Baltimore area. Dr. Ng specializes in removing large and rare sarcomas and performs this type of surgery on a weekly basis.

He provides consultations for international patients including Canada, South America, Russia and the Middle East.

Focusing on the patient, Dr. Ng believes strongly in maximizing patient function and providing an opportunity for the cure in the most challenging orthopedic cases. He explains conditions to patients so that they understand all of the treatment options. He is very proud to be a part of an excellent orthopedic department with highly-trained and well-respected partners.

In the News:
Clinical Trials: 
---
Dr. Ng has presented his research at numerous national and regional orthopedic conferences and has authored more than 50 articles and chapters on topics including musculoskeletal oncology, total joint replacement, cartilage biology and surgical technique. A partial listing of Dr. Ng's published works can be found at 
http://www.ncbi.nlm.nih.gov/pubmed/?term=ng%2C+vincent+y
He designed and is the Principal Investigator of the first neoadjuvant combined immunotherapy and radiotherapy trial for high-risk soft tissue sarcoma in the United States.
Dr. Ng's other recent research and clinical interests include the utilization of advanced radiation treatment such as GRID and proton beams in combination with surgery for challenging tumors, maximizing patient function and minimizing the risk of complications in complex hip reconstruction, as well as applying immunotherapy in the treatment of high-risk or advanced sarcomas.
Dr. Ng has given Grand Rounds lectures on orthopedic oncology at multiple institutions, most recently at the University of Maryland Prince George's Hospital Center and Holy Cross Hospital near Washington, D.C.
He is a member of the American Academy of Orthopaedic Surgeons (AAOS), the Children's Oncology Group (COG), Sarcoma Alliance for Research through Collaboration (SARC) and the Musculoskeletal Tumor Society (MSTS).
Dr. Ng serves as a peer reviewer for numerous multidisciplinary journals including
The Oncologist
, the official journal of the Society of Translational Oncology.
In his free time, Dr. Ng enjoys spending time with his wife and children.  Currently, his main passions are caring for his patients, searching for a cure in sarcoma, performing surgery and teaching residents. He is a former valedictorian, National Merit Scholarship winner and Big Ten Conference Athlete of the Year.
---
Patient Testimonials
---
External professional Relationships
A University of Maryland Department of Orthopaedics faculty members may have external professional relationships with health-care related businesses. These relationships often lead to the development of new treatments and therapies. The Department of Orthopaedics believes that transparency and honesty in the reporting of these relationships are essential to maintaining trust with our patients and mitigating any conflicts of interest or perceived conflicts that may arise.
All external professional relationships maintained by members of the University of Maryland Department of Orthopaedics are reviewed and approved in advance by the Dean of the University of Maryland School of Medicine (UM SOM) for conformance with UM SOM policies in regarding conflicts of interest, conflicts of commitment and professionalism.
As of May 2017, Dr. Ng disclosed the following external professional relationships:
Gender: Male
Affiliation(s):
UM Baltimore Washington Medical Center

UM Rehabilitation & Orthopaedic Institute

University of Maryland Medical Center Midtown Campus

University of Maryland Medical Center

Member of UM Faculty Physicians, Inc.
Medical School:
The Ohio State University College of Medicine, 2007

The Ohio State University College of Medicine, 2007
Residency:
Ohio State University - Dept. of Orthopaedics, 2013

The Ohio State University Wexner Medical Center, 2013

The Ohio State University Wexner Medical Center, 2013
Fellowship:
University of Washington Medical Center - Orthopaedic Oncology, 2014
Certification:
American Board of Orthopaedic Surgery - Orthopaedic Surgery, 2016