Continence and Pelvic Health Specialists
At the University of Maryland Medical Center, women who suffer from pelvic floor disorders, including urinary incontinence and pelvic organ prolapse, have access to the latest treatments, offered by a team of highly skilled physicians.
To make an appointment with any of these specialists, please call 1-866-608-4228.
---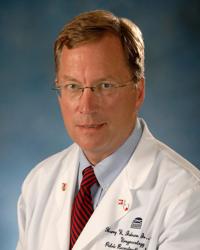 Harry W. Johnson, Jr., MD
Associate Professor of Obstetrics, Gynecology and Reproductive Sciences
Director, Division of Urogynecology and Pelvic Reconstruction
Associate Vice Chair, Gynecology
OB/GYN
Special Interests: Urogynecology, Laparoscopic Surgery/Pelvoscopy, Urinary Incontinence, Pelvic Organ Prolapse, Pelvic Reconstructive Surgery, Minimally Invasive Surgery
Dr. Harry Johnson, a specialist in incontinence and pelvic health, is director of the Division of Urogynecology and Pelvic Reconstruction. He is board certified in obstetrics and gynecology, and he has been named as a Baltimore Magazine Top Doc.
---
Madeline A. Dick-Biascoechea, MD
Clinical Assistant Professor of Obstetrics, Gynecology and Reproductive Sciences
Special Interests: Evaluation and Minimally Invasive Treatment of Pelvic Organ Prolapse, Urinary and Fecal Incontinence, Correction of Genital Fistulas and Defecatory Dysfunction
Dr. Dick-Biascoechea offers services in the evaluation and treatment of patients with female pelvic floor disorders such as urinary incontinence, pelvic organ prolapse and fecal incontinence. She has expertise in vaginal surgery and minimally invasive techniques, such as laparoscopic and robotic surgery, for the treatment of these disorders.
Dr. Dick-Biascoechea has been board certified in Obstetrics and Gynecology since 2006, and she speaks Spanish fluently.
---
Alexandra Tewell, CRNP
Special Interests: Sexual Health Dysfunction in females, Postmenopausal females, and Pelvic floor Dysfunction
Alle graduated from The University of Texas at Arlington, with bachelor of science in nursing. She received her graduate degree from Texas Women's University in Dallas, with Master of Science in Nurse Practitioner, with specialty in Women's Health. She is board certified nationally as a Women's Health Nurse Practitioner in 2020.
---
More Information & Appointments
For more information or to make an appointment, please call 1-866-608-4228.