Weight Loss and Management
Obesity is a complex, chronic disease that affects multiple aspects of your health. But losing weight on your own can be very difficult. A medical weight loss program, which offers a team of clinical experts, can be the path to success.
The Weight Management Program at the UMMC Midtown Campus in Baltimore provides care for overweight and obese individuals — with or without diabetes— through medical, dietary and behavioral management.
We are open to all — whether your body mass index (BMI) indicates that you are overweight or obese. However, what your health insurance covers may vary.
There is not a one-size-fits-all approach when it comes to losing weight. Our medical experts perform a comprehensive evaluation in order to create a personalized, realistic treatment program.
We collected data, discuss lifestyle and review your medical history before we begin creating the plan. Our recommendations are centered around will be easiest for you to follow and lose weight without feeling hungry or miserable.
Endocrinology-Based Medical Weight Management
Unfortunately, our biology makes it easy to gain weight but resistant to losing it and keeping it off. Physiologic changes in hormonal and metabolic regulation occur in obesity. Approaching weight loss through endocrinology considers these physiological changes.
As part of the Midtown Center for Diabetes Endocrinology, our experienced team of endocrinologists, who are also board-certified in obesity medicine, are committed to safe and effective weight loss. They work in conjunction with:
Diabetes educators
Nutritionists
Social workers
Behavioral health specialists
Our goal is to provide you with the skills necessary to maintain your weight loss long-term. Additionally, patients have quick access to other services as needed, such as one-on-one counseling with dieticians and dietician-led weight management classes.
Evaluating Bariatric Surgery as an Option
Our specialists work closely with the bariatric surgery program at The University of Maryland Medical Center (UMMC) – Downtown Campus. As an endocrinology team, we can:
Help determine whether someone is a good candidate for bariatric surgery and provide pre-operative medical nutrition therapy in tandem with the UMMC's bariatric surgical program.
Adjust therapy for our patients with diabetes and optimize diabetes control before surgery
Assist with medical weight management in patients who have regained weight in the years following surgery.
Manage hypoglycemic disorders, which can sometimes occur as a complication of bariatric surgery
What to Expect During Your First Visit
Collection of data on weight and body measurements; BMI calculation
Reviewing your weight and medical history
Developing a personalized nutrition plan
Determination of whether medications may be appropriate
Possible referral for additional testing, which could include:
Cardiac testing
Blood draw
Sleep studies
Continuous glucose monitoring
Endocrine function testing
Weight Management Specialists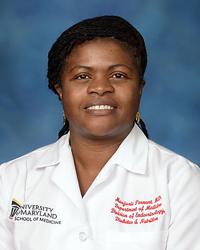 Assistant Professor of Medicine
Told You Have Prediabetes?
Let's work together to prevent diabetes!
Learn How