Sexual Abuse and Rape Assessment Center
The Pediatric Emergency Department (PED) at the University of Maryland Children's Hospital specializes in the evaluation and management of children and young adolescents who are suspected of having been sexually abused or assaulted.
---
UM Children's Hospital Emergency Department: Location and Directions
---
The PED is the site for the Sexual Abuse/Assault Forensic Evaluation (SAFE) of all children and adolescents younger than age 13 who are suspected of having been sexually abused or assaulted in Baltimore City within the previous five days. Each year, we evaluate approximately 200 children and young adolescents. For evaluations of patients outside of Baltimore City or outside of five days, please refer to the Maryland Coalition Against Sexual Assault for the appropriate SAFE Program

The staff of the PED is specially trained to help children and families receive support, treatment, and education needed to respond to this crisis. We also help families access services to support children and families through this difficult period.

Our sexual abuse and sexual assault evaluations are a true team effort. Our team consists of physicians, nurses, social workers, child life specialists, support staff and pastoral care. We work closely with the Baltimore City Police Department, the Baltimore City Department of Social Services (Child Protective Services) and the local Child Advocacy Centers to ensure that all children suspected of being sexually abused receive high quality care that addresses the individual needs of the children and their families.

If you, your child or someone you know has been a victim of child sexual abuse, or if you would like to find out additional information, please visit the web site of the local child advocacy center, the Center for Hope (formerly the Baltimore Child Abuse Center).
For additional information, you may contact: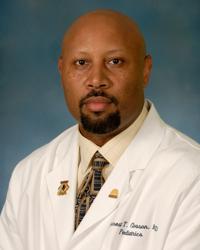 Forrest T. Closson, MD
Medical Director, Sexual Abuse and Rape Assessment Center
Pediatric Emergency Department
Tel: 410-328-2079 OR 410-328-6335
Fax: 410-328-0558 OR 410-328-0987
fclosson@peds.umaryland.edu