Steven J. Cassady, MD
Assistant Professor of Medicine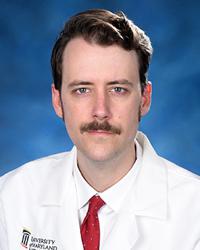 Specialties:
Available for Telemedicine Visits
I chose a career in medicine because it represented the best possible way to unite a love of science and a desire to help care for others. I have long been interested in lung disease and the focus of my career is pulmonary hypertension, a type of high blood pressure that affects the lungs and the right side of the heart.
I became interested in pulmonary hypertension because of the complexity in which the heart and lung interact with one another and the continual advances in both therapies and diagnosis being made year after year in the field.
Because of my background in pulmonary medicine, I have a particular focus in patients with pulmonary hypertension due to chronic lung diseases, such as interstitial lung disease, chronic obstructive pulmonary disease (COPD), and sarcoidosis.
The pulmonary hypertension program at the University of Maryland is a well-established PHA-certified program that has offered excellent care for many years. As a pulmonologist, I am very excited to a part of the team as it now offers an even more comprehensive approach to treatment of complex disorders that involve both the heart and the lung, where there is continued dialogue about patient care between the fields of cardiology and pulmonology.
As the patient is at the very center of our care, I strive to fully explain my diagnoses and treatment plans to make sure that patients can be active participants in their own care, especially with such a complex disease. I practice with careful attention to the constantly updating science that is emerging about pulmonary hypertension and its treatment.
My recent research focused on better diagnosing pulmonary hypertension through the use of CT scanning. I have also had the opportunity to write a recent review on pulmonary hypertension and right heart failure alongside Dr. Gautam Ramani.
Gender: Male
Language(s): English
Affiliation(s):
University of Maryland Medical Center

University of Maryland Medical Center Midtown Campus
Medical School:
University of Maryland School of Medicine, 2014
Residency:
ICAHN School of Medicine At Mount Sinai, 2017
Fellowship:
University of Maryland Medical Center - Med, Pulmonary & Critical Care, 2020
Certification:
American Board of Internal Medicine - Critical Care Medicine, 2021

American Board of Internal Medicine - Pulmonary Disease, 2019

American Board of Internal Medicine - Internal Medicine, 2017
MTC Center for Lung Health
800 Linden Avenue
Baltimore,
MD
21201
Get Directions