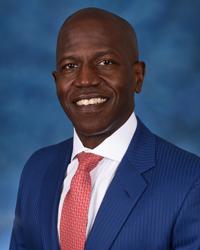 Watch Videos
Rodney J. Taylor, MD, MSPH
Head and Neck Surgery
Professor, Chair of Otorhinolaryngology-Head & Neck Surgery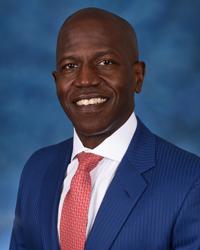 Watch Videos
UM Faculty Physicians, Inc.
Languages: English
Gender: Male
Locations
UMMC Adult Otorhinolaryngology
16 South Eutaw Street
Suite 400
Baltimore,
MD
21201
Get Directions
About Me
Dr. Taylor performs complex surgical procedures for a range of head and neck conditions, including tumors and cancers of the mouth, throat, sinuses, skull base, thyroid, parathyroid and salivary glands as well as neck masses, sinus disease and sinusitis.
He takes a patient-centered approach, prioritizing his patients' needs and desires rather than simply treating a condition.
"I believe that a patient's complete wellness is critical," he explains. "I chose this specialty because it permits long-standing, fulfilling relationships with my patients where inspiration, support and caring is a reciprocal experience.​"
Professor and chair of the Department of Otorhinolaryngology - Head & Neck Surgery (OHNS) at the University of Maryland School of Medicine (UMSOM), Dr. Taylor is routinely recognized both nationally and regionally as a top ear, nose and throat (ENT) doctor. Under his leadership, the OHNS department regularly is among the nation's top otolaryngology programs.
He graduated with honors from Harvard College, where he also was senior class president and a varsity football player and served on the Harvard Foundation for Diversity and Multicultural Affairs. He attended Harvard Medical School. He then completed his residency in otolaryngology - head and neck surgery at the University of Michigan, where he also earned a master's degree in clinical research design and statistical analysis.
In addition to his demanding clinical practice, Dr. Taylor runs an active research program that has included understanding disparities in head and neck cancer care in underrepresented and disadvantaged patients.
He also has studied a pioneer gene system (ZSCAN4), which facilitates cancer cells in continuing to divide and survive in a way that normal cells don't. In addition to furthering the understanding of how cancer cells replicate, the work on ZSCAN4 also has implications for regenerative medicine.
Throughout his career, Dr. Taylor has demonstrated a strong commitment to service locally, nationally and internationally. He helped form a team of ENT surgeons who have traveled to Haiti at regular intervals to provide advanced surgical care for patients and training for physicians. He co-founded a nonprofit (MENTA) that has provided care for underserved populations in Africa, Asia, and the Pacific islands.
Keenly aware of the many individuals who have contributed to his success, Dr. Taylor is passionate and active on a local and national level in providing his mentorship to increase underrepresented individuals in health care and research fields.
He has served on the advisory board of the CURE Scholars Mentoring Program, which works to enable middle and high school students in West Baltimore to access competitive research, health care and STEM-related career opportunities.
Dr. Taylor serves on the UMSOM Diversity Committee and is a leader in developing unconscious bias training for its faculty and staff. On a national level, he is chair of the Head and Neck Surgery & Oncology committee and serves on the AAOHNS Diversity Committee.
Dr. Taylor has run more than 25 marathons around the world, including ones in Boston, Chicago, New York, London, Berlin and Tokyo. He is grateful for and inspired by his wife and sons, parents, brother and the many other friends and colleagues who support and enrich him on a daily basis. ​
Dr. Taylor was featured on Maryland Public television's Your Health segment on sleep apnea.
Medical School:
Harvard Medical School, 1995
Internship:
University of Michigan Hospitals and Health Centers, 1996
Residency:
University of Michigan Hospitals and Health Centers, 2001
Fellowship:
University of Michigan - Research Fellowship, NIH Training Grant DC00024, 1999
Certification:
American Board of Otolaryngology- Head and Neck Surgery - Otolaryngology, 2002
UM St. Joseph Medical Center

UM Baltimore Washington Medical Center

University of Maryland Medical Center

University of Maryland Medical Center Midtown Campus