Nicholas P. Pietris, MD
Assistant Professor of Pediatrics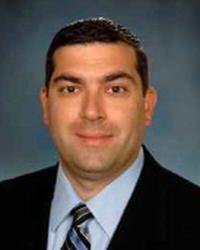 Specialties:
Available for Telemedicine Visits
Dr. Pietris is a pediatric cardiologist. He specializes in general pediatric cardiology, non-invasive cardiac imaging and cardiopulmonary exercise stress testing.
Dr. Pietris' academic interests include non-invasive cardiac imaging using advanced echocardiographic techniques and three-dimensional imaging. He is involved in translational research geared toward bringing novel therapies from the laboratory bench to the bedside for clinical use.
After earning his Bachelor of Science degree in biochemistry from the State University of New York (SUNY) at Stony Brook (Stony Brook, New York) and medical degree from SUNY Buffalo, Dr. Pietris completed a residency in pediatrics and a fellowship in pediatric cardiology at Yale New Haven Hospital in New Haven, Connecticut. At Yale, he conducted research on non-invasive imaging using ultrasound and computed tomographic angiography of small animal tissue-engineered vascular grafts that were being studied to develop similar grafts for use in pediatric cardiac imaging in the Children's Heart Program at the Medical University of South Carolina in Charleston, South Carolina.
Gender: Male
Language(s): English
Affiliation(s):
UM Capital Region Health

UM Baltimore Washington Medical Center

UM Upper Chesapeake Health

UM St. Joseph Medical Center

UM Charles Regional Medical Center

University of Maryland Medical Center

Member of UM Faculty Physicians, Inc.
Medical School:
University at Buffalo State University of New York School of Medicine & Biomedical Sciences, 2005

University at Buffalo State University of New York School of Medicine & Biomedical Sciences, 2005

University at Buffalo State University of New York School of Medicine & Biomedical Sciences, 2005

Jacobs School of Medicine & Biomedical Sciences at the Univ of Buffalo, 2005
Internship:
Yale-New Haven Hospital, Dept. of Pediatrics, 2008
Residency:
Yale-New Haven Hospital, 2008

Yale-New Haven Hospital, 2011
Fellowship:
Medical University of South Carolina - Pediatric Cardiac Imaging, 2013

Children's Heart Program of South Carolina - Pediatric Cardiac Imaging, 2013

Yale-New Haven Hospital - Pediatric Cardiology, 2011

MUSC, Children's Heart Program of South Carolina - Pediatric Cardiology Echocardiography, 2012

Yale-New Haven Hospital, Dept. of Pediatrics - Pediatric cardiology, 2011
Certification:
American Board of Pediatrics - Pediatric Cardiology, 2012

American Board of Pediatrics - Pediatrics, 2008