Leah B. Ruppe, CNM
Instructor of Obstetrics, Gynecology and Reproductive Sciences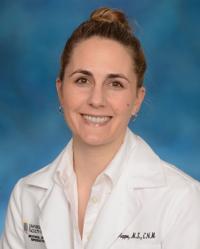 Ruppe completed her undergraduate degree in Nursing at Georgetown University. She then continued on at Georgetown University to earn her Master's Degree in Midwifery and Women's Health. During her midwifery education, she had the opportunity to practice and attend births in a variety of healthcare settings including both the hospital and birth center environment.
Leah Ruppe enjoys caring for women of diverse backgrounds. She is the primary obstetric provider for HIV-infected women receiving care at the University of Maryland. She also provides prenatal care using the Centering Pregnancy model of care.
Gender: Female
Language(s): English; Spanish
Affiliation(s):
University of Maryland Medical Center Midtown Campus

University of Maryland Medical Center

Member of UM Faculty Physicians, Inc.
Undergraduate:
Georgetown University School of Nursing - Nursing, 2009
Graduate:
Georgetown University School of Nursing - Nurse Midwife, 2010
Certification:
American Midwifery Certification Board - Nurse Midwife, 2011
UM Women's Ctr Penn Street
120 Penn Street
Baltimore,
MD
21201
Get Directions
UM Women's Health Baltimore Ste 500
419 West Redwood Street
Suite 500
Baltimore,
MD
21201
Get Directions
UM Women's Center Midtown Formerly at Edmondson Village
827 Linden Avenue
Baltimore,
MD
21201
Get Directions