Wilbur H. Chen, FACP, FIDSA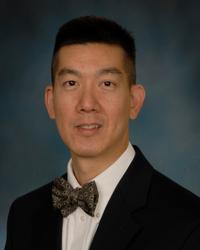 Dr. Chen is an adult infectious disease physician-scientist with a specific interest in travel medicine, the treatment and prevention of infections from international travel. He is the director of the University of Maryland, Baltimore (UMB) Travel Medicine Practice.
The UMB Travel Medicine Practice provides comprehensive health care, including travel consultations, education and vaccinations for people planning trips overseas, especially to areas with limited resources. In addition, the clinic provides treatment for diseases and conditions contracted during international travel.  
The Travel Medicine Practice services include immunizations to prevent yellow fever, typhoid fever, hepatitis A, meningococcal meningitis, Japanese encephalitis, rabies, cholera and other infections found in host countries.
Travelers are educated about health risks and how to prevent them, including travelers' diarrhea and other food and waterborne infections, malaria and insect-borne infections, and altitude sickness.
Dr. Chen is also chief of Adult Clinical Studies within the Center for Vaccine Development and Global Health, where he conducts research to develop vaccines.
He is an active investigator within the National Institute of Allergy and Infectious Disease's Vaccine and Treatment Evaluation Unit (VTEU), which is composed of 10 academic centers throughout the U.S.  
He leads multiple vaccine development studies on enteric pathogens (diarrheal diseases chiefly of resource-poor and economically disadvantaged countries) and respiratory viruses.  And, he is a voting member of the CDC's Advisory Committee on Immunization Practices (ACIP), where U.S. policy is formulated for licensed vaccines.
Gender: Male
Language(s): English
Affiliation(s):
University of Maryland Medical Center

Member of UM Faculty Physicians, Inc.
Medical School:
Howard University College of Medicine, 1999
Residency:
Johns Hopkins Bayview Medical Center, 2002
Fellowship:
University of Maryland Medical Center - Infectious Diseases, 2004
Certification:
American Board of Internal Medicine - Infectious Disease, 2011
University of MD Medical Group, PA
419 West Redwood Street
Baltimore,
MD
21201
Get Directions
University of MD Medical Group, PA
22 South Greene Street
Baltimore,
MD
21201
Get Directions