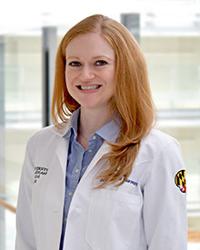 Whitney Erin Parker, MD, PhD
Pediatric Neurosurgery, Neurosurgery
Assistant Professor of Neurosurgery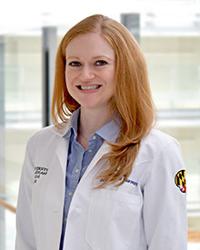 UM Physician Network
Available for Telehealth Visits
Languages: English
Gender: Female
Locations
UMM Neurosurgery Redwood St
419 West Redwood Street
Suite 410
Baltimore,
MD
21201
Get Directions
UMM Neurosurgery UM Medical Center
22 South Greene Street
Suite S-12-D
Baltimore,
MD
21201
Get Directions
About Me
Dr. Parker has held an interest in pediatric neurosurgery since her first year of medical school, when she began studying neurodevelopmental disorders. This was solidified by the first neurosurgical case she scrubbed in for—an anatomical hemispherectomy in a nine-year-old with unilateral polymicrogyria and epilepsy.
"It was mind-blowing to me that children could undergo such extreme procedures and not only survive but often re-plasticize neural function to unaffected areas as a result of their disease process occurring during development," Dr. Parker says. "Children make pretty great patients. They're unbelievably strong, resilient and fun to talk to on rounds or in clinic."
At University of Maryland School of Medicine, Dr. Parker contributes to the Department of Neurosurgery's pediatric and adult cranial-focused programs. She also collaborates internally with the departments of Pediatrics and Neurology with a clinical focus on pediatric epilepsy and adult/pediatric cranial neurosurgery. She has clinical privileges at Johns Hopkins to create a cross-institutional network to advance access to and improve the performance of pediatric patient care in the region and beyond.
Dr. Parker is also head of Parker Lab, which focuses on neurodevelopmental epileptic disorders. She uses mouse and human models of brain development and performs neural recordings in vivo and in vitro to define mechanisms of disease pathology and the efficacy of targeted treatment options. The ultimate goal of her combined lab and clinical work is to initiate a translational effort to identify patients with epileptic disorders through early genetic testing and work to prevent the development of epilepsy, rather than treat its consequences, through neonatal or even fetal targeted interventions.
Dr. Parker's research and scholarship accomplishments include 18 peer-reviewed publications and more than 1,180 citations. She has authored two book chapters and given 15 presentations and major invited speeches. She will continue her research program, investigating brain development by studying a rare form of epilepsy in the Mennonite community known as Pretzel syndrome in the collaborative neuroscience labs located at Health Sciences Facility III.
After graduating from The University of Pennsylvania (Philadelphia, Pennsylvania) with a Bachelor of Science degree in biological basis of behavior in 2006, Dr. Parker continued her tenure at the institution, earning her PhD in 2012 and her medical degree in 2016. During her time as a medical and PhD student, she received various academic awards, including the Hearst Foundation Fellowship Award, a National Institutes of Health T32 grant, the President Gutman Leadership Award, and several other clinical and research honors. Upon graduating, she began her residency at New York Presbyterian Hospital/Weill Cornell and Memorial Sloan-Kettering Cancer Center in New York City and completed a pediatric neurosurgery fellowship at The Hospital for Sick Children (SickKids) in Toronto, Ontario, Canada in 2021.
Throughout her residency, Dr. Parker found pediatric cases to be some of the most technically challenging and elegant procedures, and her fellowship year confirmed that, allowing her to do her favorite types of cases like functional hemispherotomies, temporal lobectomies and electrode implantations for epilepsy; posterior fossa and intraventricular tumor resections; intramedullary spinal tumor resections; and AVM resections, all with the privilege of working with and learning from fantastic mentors.
Dr. Parker completed her doctoral work in the lab of Peter Crino, MD, PhD.
Medical School:
University of Pennsylvania - Perelman School of Medicine, 2014
Residency:
New York Presbyterian Hospital, 2021
Fellowship:
Hospital for Sick Children (SickKids) - Pediatric Neurosurgery Fellowship, 2022
University of Maryland Medical Center