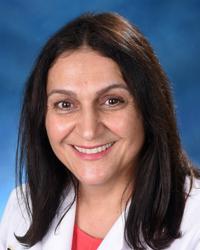 Watch Videos
Songul Onder, MD
Nephrology
Associate Professor of Medicine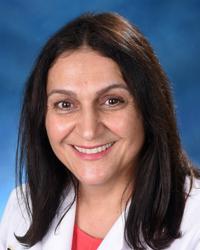 Watch Videos
Languages: Turkish,English
Gender: Female
Locations
University of Maryland Medical Center Midtown Campus Family Health Center Nephrology
800 Linden Avenue
Floor 8
Baltimore,
MD
21201
Get Directions
About Me
Dr. Onder is a nephrologist. She has over 20 years of clinical experience. She has practiced medicine in multiple national and international cities.
Dr. Onder's research and clinical interests include:
Ambulatory blood pressure monitoring
Behcet's disease
Chronic kidney disease
Dialysis
Glomerulonephritis
Hypertension
Obesity
Reproductive endocrinology
Vasculitis
Dr. Onder is interested in establishing subspecialty clinics — namely those for diabetic kidney disease, cardiorenal disease, HIV-related kidney disease and chronic post-transplant kidney care patients — to improve research opportunities and clinical care outcomes. At previous entities, she established hereditary kidney disease, polycystic kidney disease, and sickle cell nephropathy clinics as well as transition clinics for young onset hypertension by collaborating with pediatrics and hematology oncology colleagues.
Dr. Onder received internal medicine training in the U.S. and Turkey. Her research focuses on vasculitis syndromes and chronic kidney disease.
Medical School:
Bursa Uludag Universitesi Tip Fakultesi, 1996
Internship:
Orlando Regional Medical Center, 2006

University of Miami, Jackson Memorial Hospital, 2005
Residency:
Istanbul Universitesi, Istanbul Tip Fakultesi, 2001

Ruby Memorial Hospital WVU Healthcare, 2008
Fellowship:
Ruby Memorial Hospital WVU Healthcare - Nephrology, 2010
Certification:
American Board of Internal Medicine - Nephrology, 2010

American Board of Internal Medicine - Internal Medicine, 2008
University of Maryland Medical Center Midtown Campus

University of Maryland Medical Center
"Kidney function after treatment for childhood cancer: A report from the St. Jude Lifetime Cohort Study." DM Green, M Wang, M Krasin, DK Srivastava, S Onder, DW Jay, KK Ness. Journal of the American Society of Nephrology, 32 (4), 983–993.
"Detecting the prevalence of bacterial colonization on tunneled cuffed hemodialysis catheters using quantitative PCR targeting 16S rRNA and scanning electron microscopy." AM Onder, CF Cuff, X Liang, AA Billings, S Onder, JJ Yu, JA King. The Journal of Vascular Access, 11297298211009016.
"Treating the obese dialysis patient: Challenges and paradoxes." S Celebi‐Onder, RJ Schmidt, JL Holley. Seminars in dialysis, 25 (3), 311–319.
"Reproductive endocrinology in chronic kidney disease patients: New approaches to old challenges." S Onder, S Akbar, RJ Schmidt. Seminars in Dialysis 29 (6), 447–457.
"Expression of KIR and C-type lectin receptors in Behcet's disease." G Saruhan-Direskeneli, FA Uyar, A Cefle, SC Onder, EEksioglu-Demiralp. Rheumatology, 43 (4), 423–427