Robynne Melissa Braun, MD
Assistant Professor of Neurology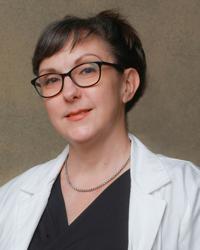 Dr. Braun is a physician/scientist with a research background in kinesiology and clinical training in rehabilitation medicine. Since completing her PhD in 2007, she has been building a career path that unites her research background in kinesiology with her clinical interests in musculoskeletal and neurological disorders.
While in the MD with Honors in Research program at Loyola Stritch School of Medicine (2007 – 2011), Dr. Braun collaborated with the Kartje Lab at the Neuroscience Institute where she developed kinematic methods to evaluate motor recovery with stem cell therapy in a rodent model of stroke. Dr. Braun presented this research at several conferences both nationally (AAPM&R, ACRM) and internationally (ISPRM).
During the final year of medical school and first year of residency as Intern in Internal Medicine at Loyola, Dr. Braun published several manuscripts (in Brain and Cognition, Neurorehabilitation and Neural Repair, and Somatosensory and Motor Research), and was awarded the 2010 ERF New Investigator Award by the Foundation for PM&R.
During her subsequent residency training at the University of Washington, she continued to develop my research skills and was accepted in 2013 to the RMSTP, an NIH-funded career development program for emerging clinician/scientists in rehabilitation medicine. While in this program, she collaborated with the Childers and Mack labs at the Institute for Stem Cell and Regenerative Medicine and initiated a new line of research examining the effects exercise on gene therapy uptake for inherited myopathies.
After residency, she was accepted for advanced training at the Johns Hopkins School of Public Health in the Science of Clinical Investigation Program, where she further refined my knowledge of clinical research design and implementation. This positioned her well for my subsequent appointment as assistant professor in the department of neurology at the University of Maryland, where my work is focused upon clinical care and research in stroke rehabilitation.
Gender: Female
Language(s): English
Affiliation(s):
UM Rehabilitation & Orthopaedic Institute

University of Maryland Medical Center

Member of UM Faculty Physicians, Inc.
Medical School:
Loyola University Chicago Stritch School of Medicine, 2011

Loyola University Medical Center, 2012
Residency:
University of Washington Medical Center, 2015

Loyola University Medical Center, 2012
Certification:
American Board of Phys Med & Rehab - Neurology, 2018
University of MD Neurology Associates, PA
2200 Kernan Drive
Baltimore,
MD
21207
Get Directions