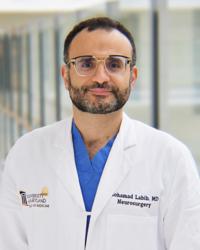 Mohamed A M Labib, MD
Neurosurgery
Assistant Professor of Neurosurgery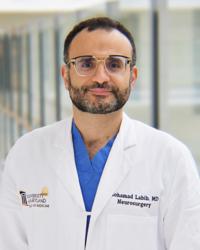 UM Faculty Physicians, Inc.
Languages: English
Gender: Male
Locations
UMM Neurosurgery UM Medical Center
22 South Greene Street
Suite S-12-D
Baltimore,
MD
21201
Get Directions
Department of Neurosurgery MPTC
850 West Baltimore Street
Baltimore,
MD
21201
Get Directions
Radiation Oncology UMH
22 South Greene Street
Baltimore,
MD
21201
Get Directions
About Me
Dr. Labib is a neurosurgeon who specializes in open cerebrovascular and both open and endoscopic endonasal skull base surgery.
Dr. Labib completed two neurosurgical residencies — one at the University of Western Ontario in Canada and the other at the Barrow Neurological Institute in Phoenix, Arizona. At Barrow, he was mentored by Drs. Michael Lawton and Robert Spetzler, from whom he learned the intricacies of complex cerebrovascular surgery, as well as by Dr. Peter Nakaji, who instilled in him the modern concepts of minimally invasive neurosurgery.
Dr. Labib also completed a comprehensive skull base fellowship with Dr. Samy Youssef at the University of Colorado (2020) and an endoscopic endonasal skull base fellowship with Dr. Danny Prevedello and Dr. Amin Kassam at the University of Pittsburgh (2010) and the University of Ottawa (2013), respectively. He also obtained a cerebrovascular fellowship from North Shore University Hospital in New York (2016).
"Being able to surgically intervene and help patients with cerebrovascular diseases such as complex aneurysms, arteriovenous malformations, brainstem cavernous malformations, Moyamoya diseases, and other ischemic and hemorrhagic vascular pathologies is a true privilege. I believe that each patient is different and that every operation I do must be tailored to the needs of each particular patient," says Dr. Labib. "By adapting the minimally invasive yet maximally effective philosophy, I strive to provide my patients with the best possible outcomes while minimizing surgical morbidity."
Dr. Labib adds: "The concept of Skull Base 360 defines my mission as a neurosurgeon. I am fortunate for having the opportunity to do extensive training in open skull base surgery, coming from the top, where we open the skull and mobilize the brain, vessels and nerves to get to a tumor at the base of the skull as well as extensive training in endoscopic endonasal surgery, coming from below, where we carve our way through the nose to reach a tumor directly at the skull base below the brain. I came to realize that neither approach is a panacea and that the safest way to remove a skull base tumor is by tailoring the approach to each tumor in order to minimize potential morbidities for my patients. By having a comprehensive understanding of the anatomy of the skull base and by adopting the Skull Base 360 philosophy in my practice, I can use either open or endoscopic endonasal approaches, or a combination thereof, to personalize the surgical management of my patients."
Dr. Labib takes pride in participating in the education of the future generation of neurosurgeons. He feels responsible not only for the patients he is privileged to treat directly but also for patients who will be treated by his trainees after they graduate. The true measure of his success as an educator is the extent of innovation his trainees will introduce to the field in the future.
Dr. Labib is a member of the Congress of Neurological Surgeons (2006 to present) and the American Association of Neurological Surgeons (2016 to present). In 2012, he received a neurosurgery certification from the Royal College of Physicians and Surgeons.
Conditions and diseases Dr. Labib and his team treat include:
Vascular
Brain aneurysms
Arteriovenous malformation and fistulas 
Brainstem cavernous malformation
Moyamoya disease
Carotid artery atherosclerosis / stenosis
Tumors
Chordomas and chondrosarcomas
Meningiomas
Malignant skull base tumors
Intraventricular tumors
Gliomas
Vestibular schwannomas
Cranial Nerve Compression Syndromes
Trigeminal neuralgia
Hemifacial spasm
Surgeries Dr. Labib and his team perform include:
Bypass surgery
Endoscopic endonasal surgery
Transorbital surgery
Skull base surgery
Minimally invasive tubular-assisted surgery
Microvascular decompression
Medical School:
McGill University Faculty of Medicine, 2006
Residency:
Western University, 2012

St Joseph Hospital and Medical Center (Barrow Neurological Institute), 2021
Fellowship:
North Shore University Hospital - Neurosurgery, 2016

University of Ottawa Faculty of Medicine - Neurosurgery, 2013
University of Maryland Medical Center

University of Maryland Medical Center Midtown Campus
"Skull Base 360°: Minimizing Morbidities Associated with Skull Base Surgery" is the central tenet of Dr. Labib's research in skull base surgery. Dr. Labib had led several neuroanatomical projects comparing open and endoscopic skull base approaches. He introduced new endoscopic endonasal surgical corridors to the jugular foramen and infra-petrous regions. He also introduced the first comprehensive Road Map to the Internal Carotid Artery in Endoscopic Endonasal Approaches.
In the field of cerebrovascular surgery, Dr. Labib has authored multiple articles on complex aneurysm and arteriovenous malformation (AVM) surgeries as well as on new methods of cerebral revascularization. He was also the leading author on the first multicenter study evaluating the efficacy of BrainPath mediated evacuation of intraparenchymal clots, which has evolved into the ENRICH trial.
https://pubmed.ncbi.nlm.nih.gov/?term=Labib+MA&cauthor_id=29808639