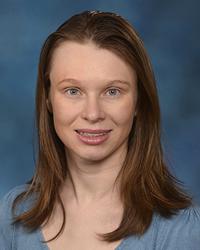 Specialties:
Laryngology

Head and Neck Surgery

Otolaryngology
Dr. Grace Snow is a fellowship-trained laryngologist who specializes in the medical and surgical management of voice, airway and swallowing disorders.
She treats a variety of disorders affecting the vocal cords, airway and upper esophagus, including non-cancerous vocal cord lesions, laryngeal cancer, recurrent respiratory papillomatosis, spasmodic dysphonia, laryngeal and tracheal stenosis, laryngopharyngeal reflux and Zenker's diverticulum.
Dr. Snow specializes in vocal cord laser surgery using KTP and CO2 lasers and performs office-based treatments including vocal cord injection augmentation, vocal cord Botox injection and transnasal esophagoscopy.

Dr. Snow is a Baltimore native who received her medical degree from Duke University School of Medicine and completed her residency in Otorhinolaryngology-Head and Neck Surgery at the University of Maryland School of Medicine. She then completed a fellowship in Laryngology at Johns Hopkins School of Medicine.
Gender: Female
Language(s): English
Affiliation(s):
University of Maryland Medical Center Midtown Campus

UM Rehabilitation & Orthopaedic Institute

University of Maryland Medical Center

Member of UM Faculty Physicians, Inc.
Medical School:
Duke University School of Medicine, 2014
Residency:
University of Maryland Medical Center, 2019
Fellowship:
Johns Hopkins University School of Medicine - Laryngology, 2021
Certification:
American Board of Otolaryngology- Head and Neck Surgery - Otolaryngology, 2021
UMMC Adult Otorhinolaryngology
16 South Eutaw Street
Suite 400
Baltimore,
MD
21201
Get Directions
University of Maryland Rehabilitation and Orthopedic Institute Ear, Nose & Throat Clinic
2200 Kernan Drive
Baltimore,
MD
21207
Get Directions
UM Peds Otorhinolaryng Columbia
5900 Waterloo Road
Suite 250
Columbia,
MD
21045
Get Directions