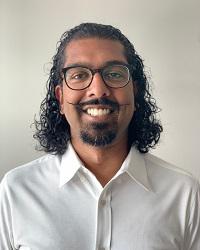 Avinash Vinode Ramprashad, MD
Psychiatry, Addiction Psychiatry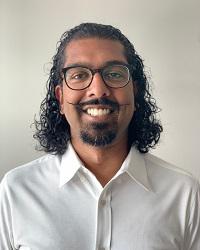 UM Faculty Physicians, Inc.
Languages: English, Spanish
Gender: Male
Locations
About Me
Dr. Ramprashad provides teleaddiction and telepsychiatry services on Maryland's Eastern Shore via the Caroline County Health Department's Mobile Treatment Unit. He also works as a consultant with the Maryland Addiction Consultation Service, providing buprenorphine waiver training to providers of all backgrounds and conducting phone consultations with providers throughout Maryland who are treating patients with addiction issues. In addition, he supervises senior psychiatry residents in psychodynamic therapy. His clinical interests include psychodynamic psychotherapy and the implementation of cognitive behavioral therapy and motivational interviewing in the treatment of addictions and comorbid mental illness.
Dr. Ramprashad is an associate professor in the Division of Addiction Research and Treatment in the Department of Psychiatry at University of Maryland School of Medicine. He is an associate training director for the University of Maryland/Sheppard Pratt Psychiatry Residency Training Program. He is also a faculty member in the addiction division and a buprenorphine-wavered provider. He works at the University of Maryland Treatment Center, an opioid treatment program that provides methadone and buprenorphine treatment as well as co-located psychiatric services.
A Queens, New York, native, Dr. Ramprashad completed his undergraduate studies at the New York University College of Arts and Science, receiving a Bachelor of Arts degree in psychology. He completed medical school at the State University of New York (SUNY) Upstate College of Medicine in Syracuse, New York, in 2012. He completed his general psychiatry residency in the University of Maryland/Sheppard Pratt training program in 2020, serving as Psychiatric Emergency Services and University of Maryland Medical System inpatient chief resident in his final year of training.
Dr. Ramprashad completed his addiction training in the University of Maryland Addiction Psychiatry Fellowship Program. He was the recipient of the 2020 Dr. Donald Ross Award for Outstanding Psychotherapy Paper, voted on by teaching faculty. He also completed the Washington Baltimore Center for Psychoanalysis Fellowship Program in 2020.
Dr. Ramprashad's personal interests include listening to music (hip-hop, R&B, jazz and reggae, among other genres), reading, playing pool/billiards, and taking care of an extensive and ever-growing plant collection.
Medical School:
State University of New York Upstate Medical University, 2016
Residency:
University of Maryland Medical Center, 2020
Fellowship:
University of Maryland Medical Center - Addiction Psychiatry, 2021
Certification:
American Board of Psychiatry and Neurology - Addiction Psychiatry, 2022

American Board of Psychiatry and Neurology - Psychiatry, 2020
University of Maryland Medical Center Midtown Campus

University of Maryland Medical Center