Raj Yalamanchili, MD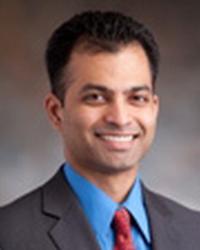 When Rafael was finally ready to address that hip pain, Dr. Yalamanchili and the Upper Chesapeake Specialty Group got him back to the activities he loves.
Learn how Dr. Yalamanchili and the Upper Chesapeake Orthopedic Specialty Group are getting people back to the activities they love.

Dr. Yalamanchili is a member of the University of Maryland Joint Network, a group of surgeons known for their advanced expertise and positive outcomes in total hip and knee replacement.

Dr. Raj Yalamanchili is a fellowship-trained orthopedic surgeon. His practice is focused on knee and hip replacement and preservation. He performs minimally invasive partial and total joint replacement as well as hip and knee arthroscopy. He is interested in complex revision surgery for failed and infected joint replacements and periprosthetic fractures. Dr. Yalamanchili also serves as the Director for Joint Replacement at UM Upper Chesapeake Medical Center. He recognizes that each individual is unique and provides his patients with an individualized approach to care. He has presented and published research in peer reviewed journals and national symposia and has won numerous awards and scholarships for excellence in research and academics. Specializing in joint replacement and preservation enables him to offer treatment that brings his patients relief from pain, the ability to return to their daily activities and hobbies they may not have been able to do for months or even years.
Learn more about the Upper Chesapeake Orthopaedic Specialty Group
Live Greater Podcast Episodes
Gender: Male
Language(s): English
Affiliation(s):
UM Upper Chesapeake Health

Member of UM Upper Chesapeake Medical Services
Medical School:
New Jersey Medical School, 2005
Residency:
St. Joseph Regional Medical Center, 2011
Fellowship:
Sinai Hospital-Rubin Institute for Advanced Ortho - Joint Reconstruction, 2012
Certification:
American Board of Orthopaedic Surgery - Orthopaedic Surgery, 2014