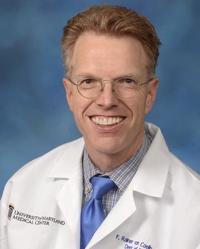 F. Rainer Von Coelln, MD
Movement Disorders Neurology
Assistant Professor of Neurology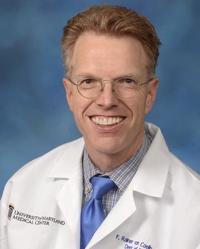 UM Faculty Physicians, Inc.
Available for Telehealth Visits
Languages: English,German
Gender: Male
Locations
Neurology Care Center
16 South Eutaw Street
Floor 3
Baltimore,
MD
21201
Get Directions
About Me
F. Rainer von Coelln, Dr. med., is from Germany and received his medical degree (Dr. med. is equivalent to the U.S. degree of MD/PhD) from University of Heidelberg, Germany in 1997. He did his neurology residency at the University of Tuebingen, Germany. This included a clinical and scientific focus on movement disorders and neurodegenerative diseases, in particular Parkinson disease (PD), dystonia and dementia. During his residency, he completed several ambitious projects in bench research and clinical research, focused on pre-clinical and clinical aspects of PD and dystonia.
In 2001, Dr. von Coelln interrupted his training in Tuebingen for a 3-year postdoctoral fellowship with Dr. Ted Dawson at Johns Hopkins University (JHU), working on animal models of genetic forms of PD.
After completing his residency in Germany in 2008, and a brief transition period of clinical duties in Tuebingen, he joined the Movement Disorder Division at JHU for a clinical fellowship in 2009.
In order to be in a position to continue his clinical work as a licensed and board-certified physician in the U.S. medical system, he decided to do another neurology residency in the U.S. at the University of Maryland Medical Center Baltimore. Dr. von Coelln finished this additional clinical training in 2014, and subsequently accepted a position as Assistant Professor in the Movement Disorder Division of the Department of Neurology at University of Maryland School of Medicine.
During his last year of residency, Dr. von Coelln successfully applied for a Clinical Research Training Fellowship by the American Academy of Neurology (AAN) and the American Brain Foundation (ABF). This career development grant is centered on his current project in clinical neurogenetics, aiming to identify genetic factors that determine the variable clinical presentation of PD.
Clinically, he is focused on the diagnosis and management of PD and "PD look-alikes", as well as other movement disorders (including dystonia, ataxia, tics, chorea, and other involuntary movements) and cognitive impairment/dementia.
Medical School:
Johns Hopkins Hospital, 2004

Ruprecht-Karls University, 1997
Internship:
Residency:
University of Maryland Medical Center, 2014

University of Tuebingen, 2001

University of Tuebingen, 2008
Fellowship:
Johns Hopkins University School of Medicine - Postdoctoral Fellowship in Neurobiology, 2004

Johns Hopkins University - , 2010
Certification:
American Board of Psychiatry and Neurology - Neurology, 2014
UM Charles Regional Medical Center

University of Maryland Medical Center