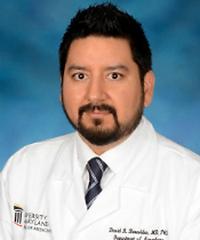 Watch Videos
David R. Benavides, MD, PhD
Neurology
Assistant Professor of Neurology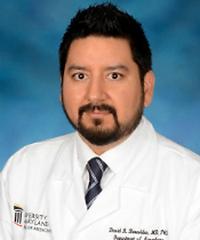 Watch Videos
UM Faculty Physicians, Inc.
Languages: English
Gender: Male
Locations
Neurology Care Center
16 South Eutaw Street
Floor 3
Baltimore,
MD
21201
Get Directions
About Me
Dr. Benavides specializes in neuroimmunology, a branch of medicine that combines neuroscience (the study of the nervous system) and immunology (the study of the immune system). 
Specifically, Dr. Benavides focuses on a group of neurological diseases called antibody-mediated disorders. These include:
Autoimmune encephalitis
Myelin oligodendrocyte glycoprotein antibody disease (MOGAD)
Neuromyelitis optica spectrum disorder (NMOSD)
Stiff-person syndrome
He also has expertise in many other neurological conditions, such as:
Acute disseminated encephalomyelitis (ADEM)
Multiple sclerosis
Neurosarcoidosis
Transverse myelitis
In addition to providing high-quality, comprehensive neurological care, Dr. Benavides is committed to building strong relationships with his patients, as he believes this allows for shared decision-making and builds patients' confidence and trust in their treatment plans. This approach is appreciated by both his patients and his colleagues. He has been recognized as a "Top Doctor" in the neurology specialty – specifically for multiple sclerosis care – by Baltimore magazine.
Dr. Benavides directs a translational clinical neuroscience research program that investigate immune regulation of neuronal function, with a particular interest in antibody-mediated neurological syndromes. The goal of his research is to identify novel biomarkers and therapeutic targets for neurologic diseases. Identifying such biomarkers and targets would lead to more effective treatments for individuals with those diseases.
Learn more about the Benavides Laboratory.
Medical School:
University of Texas Southwestern Medical Center, 2010
Internship:
Sinai Hospital of Baltimore, 2011
Residency:
Johns Hopkins Hospital, 2014
Fellowship:
Johns Hopkins Hospital - Neuroimmunology and Neurological Infections, 2017

Johns Hopkins University School of Medicine - Postdoctoral Fellowship - Neuroscience, 2017
Certification:
American Board of Psychiatry and Neurology - Neurology, 2014
UM Charles Regional Medical Center

University of Maryland Medical Center