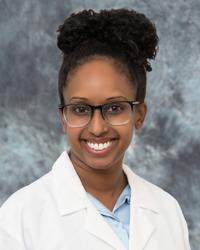 Sagal Mohamed Ali, MD
Gastroenterology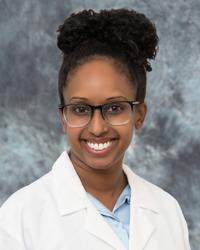 UM Charles Regional Medical Group
Languages: English
Gender: Female
Locations
CRMC Gastroenterolgy Waldorf
3581 Old Washington Road
Suite D
Waldorf,
MD
20602
Get Directions
UMCMG CR Gastroenterology La Plata
5 North La Plata Court
Suite 202
La Plata,
MD
20646
Get Directions
About Me
Why did you pursue a career in medicine, and why did you choose your particular specialty?
I pursued a career in medicine to provide care and comfort during vulnerable moments in a person's life. I chose to pursue gastroenterology because it is a diverse specialty that is growing every single day. The range of pathology is broad and it allows me the ability to treat both acute medical issues and chronic/stable disease. For these reasons, each day is unlike the other which keeps the practice of medicine exciting!
What types of conditions do your patients have, and what kinds of patients do you see?
I see all ages of patients ranging from age 18 to 100. Similarly, the conditions that are seen are broad as well ranging from life threatening gastrointestinal bleeding to chronic conditions such as irritable bowel syndrome and inflammatory bowel disease.
Do you perform any particular procedures or practice in any centers that you'd like to highlight?
I perform the standard gastrointestinal procedures including upper endoscopies and colonoscopies. These procedures often require interventions such as esophageal dilation, variceal banding, placement of manometry probes, tissue biopsies, and removal of polyps.
Why do you think patients should come to you and your team for treatment — what are some differentiating factors?
I think that patients should come to us for treatment because we offer diversity of care on every level. As a Black female physician I think it is important to have representation in medicine as we are a reflection of our community. During my gastrointestinal training I had the privilege of working with a wide variety of patients including the under-served and veterans.
Do you have a specific treatment philosophy that you'd like to share with prospective patients?
My treatment philosophy focuses on shared decision making, between the physician and the patient. I understand that each patient is different and that treatment plans should be individualized to reflect that.
Do you have any hobbies or interests you'd like to share?
I am a first generation Somali American. I enjoy traveling, cycling, puzzles, and doing the daily New York Times crossword.
Medical School:
Morehouse School of Medicine, 2015
Residency:
University of Texas Southwestern Medical Center, 2018
Fellowship:
University of Texas Southwestern Medical Center - Gastroenterology, 2021
Certification:
American Board of Internal Medicine - Gastroenterology, 2021

American Board of Internal Medicine - Internal Medicine, 2019
UM Charles Regional Medical Center