Robert V. O'Toole, MD
Professor of Orthopedics

Division Head, Orthopaedic Traumatology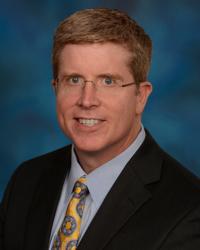 Specialties:
Orthopedic Trauma Surgery
Dr. O'Toole is the Hansjörg Wyss Medical Foundation Endowed Professor in Orthopaedic Trauma; Division Head, Orthopaedic Traumatology; Chief of Orthopaedics, R Adams Cowley Shock Trauma Center; Program Director, Orthopaedic Traumatology Fellowship Program; and Director, Clinical Research, Department of Orthopaedics.

Dr. Robert O'Toole received his bachelor of science degree in mechanical engineering from Carnegie Mellon University, an MS in mechanical engineering from Stanford University, and an MD degree from Harvard Medical School. He completed his residency at the Harvard Combined Orthopaedic Program and his fellowship in Orthopaedic Traumatology at the R Adams Cowley Shock Trauma Center in the Department of Orthopaedic Surgery within the University of Maryland School of Medicine.

After completing his fellowship, Dr. O'Toole received an academic appointment as an assistant professor within the Department of Orthopaedics at the University of Maryland School of Medicine. He was promoted to associate professor and then to professor with tenure. He has served as the director of clinical research since 2005 and a fellowship director for a highly competitive orthopaedic trauma fellowship since 2009.

In addition to Dr. O'Toole's clinical and educational work as an orthopaedic trauma surgeon, he has a particular research interest in issues affecting orthopaedic trauma. Much of his funded research work entails the study of techniques to reduce complications (particular infection and blood clots) of high energy trauma and has performed in close collaboration with the DOD funded Major Extremity Trauma Research Consortium (METRC). Other research interests include biomechanics, compartment syndrome, damage control orthopaedics and management of mangled limb.

Dr. O'Toole has been part of the team responsible for continued growth in the division of orthopaedic trauma. The group now boasts 13 faculty, 9 nurse practitioners, 5 fellows, 9 research coordinators and a host of other staff who carries out the group's mission of clinical, educational, and research excellence. The division currently is actively involved in 14 prospective research trials, with over $30 million in funded trials, demonstrating significant growth over the previous decade and positioning the division to play an important national role in orthopaedic trauma in the coming years.

Orthopaedic Trauma Fellowship at UM Shock Trauma 
Dr. O'Toole's University of Maryland School of Medicine Faculty Profile

 
Gender: Male
Language(s): English
Affiliation(s):
University of Maryland Medical Center Midtown Campus

University of Maryland Medical Center

Member of UM Faculty Physicians, Inc.
Medical School:
Harvard Medical School, 1999
Internship:
Brigham and Women's Hospital, 2000
Residency:
Massachusetts General Hospital, 2004
Fellowship:
University of Maryland Medical Center - Orthopedic Traumatology, 2005
Certification:
American Board of Orthopaedic Surgery - Orthopaedic Surgery, 2007
External Professional Relationships

A University of Maryland Department of Orthopaedics faculty member may have external professional relationships with health-care related businesses. These relationships often lead to the development of new treatments and therapies. The Department of Orthopaedics believes that transparency and honesty in the reporting of these relationships is essential to maintaining trust with our patients and mitigating any conflicts of interest or perceived conflicts that may arise.

For faculty who earn royalties on the sale of medical devices, no royalties are earned on any devices sold to patients or to hospitals that are part of the University of Maryland Medical System or in any other facilities where those faculty members treat patients.

All external professional relationships maintained by members of the University of Maryland Department of Orthopaedics are reviewed and approved in advance by the Dean of the University of Maryland School of Medicine (UM SOM) for conformance with UM SOM policies in regarding conflicts of interest, conflicts of commitment, and professionalism.

 Dr. O'Toole disclosed the following external professional relationships:
Imagen: stock options, consulting
Lincotek: consulting and royalties
Stryker: consulting
Zimmer: consulting, paid educational work
View additional data at CMS Open Payments Data
Ortho Shock Trauma UMH
22 South Greene Street
TGR 100
Baltimore,
MD
21201
Get Directions