Regina Ann Macatangay, MD
Assistant Professor of Pediatrics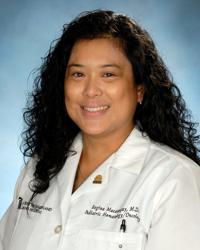 Specialties:
Pediatric Hematology

Pediatric Medical Oncology
Available for Telemedicine Visits
Regina Ann Macatangay, MD was named a "Top Doctor" in the specialty of Pediatric Hematology/Oncology by Baltimore magazine in 2020.

Dr. Macatangay completed her Pediatric residency training at the University of Maryland Medical Center and her joint fellowship training in Pediatric Hematology/Oncology at Memorial Sloan-Kettering Cancer Center and Weill Cornell Medical College in New York. She worked in the lab of Christopher Y. Park, investigating the role of microRNAs in chemoresistance of pediatric leukemia.

As a fellow, Dr. Macatangay fostered a clinical interest in neuro-oncology and Wilms tumor and worked with Dr. James Bussel on a clinical project involving Radioulnar Synostosis-Hematology Syndrome.

After moving back to Baltimore, Dr. Macatangay worked with Carol Greene to establish a joint Hematology/Oncology-Genetics clinic. She is continuing clinical research in sickle cell anemia and inherited disorders of the blood.

Dr. Macatangay is the co-director of the Pediatric clerkship and acts as a professional mentor to undergraduate students (through the Meyerhoff Scholarship Program at UMBC (M8)), medical students and Pediatric residents.
Gender: Female
Language(s): English; Tagalog; French
Affiliation(s):
University of Maryland Medical Center

Member of UM Faculty Physicians, Inc.
Medical School:
University of Maryland School of Medicine, 2006
Residency:
University of Maryland Medical Center, 2010
Fellowship:
Memorial Sloan-Kettering Cancer Center - Pediatric Hem/Onc, 2013
Certification:
American Board of Pediatrics - Pediatric Hematology-Oncology, 2019

American Board of Pediatrics - Pediatrics, 2012
University of MD Pediatric Associates, PA
22 South Greene Street
Baltimore,
MD
21201
Get Directions