Raphael Pascal Henri Meier, MD
Assistant Professor of Surgery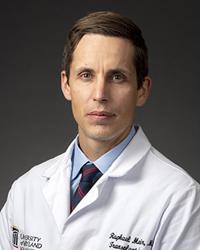 Raphael P. H. Meier, M.D., Ph.D., is a liver, kidney, and pancreas transplant surgeon at the University of Maryland School of Medicine. He completed surgical training at the University of Geneva in Switzerland. He spent three years studying mesenchymal stem cell and islet transplantation in one of the busiest cell transplant centers worldwide. Dr. Meier then completed his training in multi-organ transplantation at the University of California, San Francisco, before joining the University of Maryland faculty.
Dr. Meier's primary interest is in mesenchymal stem cell-based immunomodulation and precisely how to deliver anti-inflammatory cytokines using microencapsulated cell devices. 
Basic research interests
Mesenchymal stem cell-based immunomodulation
Islet transplantation
Cell microencapsulation
Xenotransplantation
Genome-wide association study (GWAS)
Clinical research interests
Liver transplantation
Pancreas and kidney transplantation
Islet transplantation
Liver fibrosis and nonalcoholic steatohepatitis
Machine perfusion
Dr. Meier's research background includes being awarded the Derek Gray Distinguished Traveling Scholarship Award by the International Pancreas and Islet Transplant Association (IPITA) in 2015 and the Geneva University best MD-PhD thesis award (Arditi award) by the University of Geneva.
He served as a YI committee member of the International Pancreas and Islet Transplant Association (IPITA); 2014 - 2019 tenure.
Gender: Male
Language(s): English
Affiliation(s):
University of Maryland Medical Center
Medical School:
Residency:
Geneva University Hospital, 2015
Fellowship:
UCSF Medical Center - Transplant Surgery, 2020
The Physician Offices of the University of Maryland Transplant
16 South Eutaw Street
Suite 100
Baltimore,
MD
21201
Get Directions
The Physician Offices of the University of Maryland Transplant
16 South Eutaw Street
Suite 100
Baltimore,
MD
21201
Get Directions