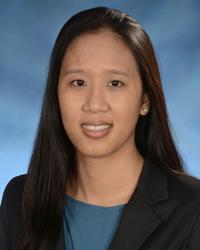 Watch Videos
Natalie L. Leong, MD
Shoulder and Elbow Orthopedic Surgery, Sports Medicine, Orthopedic Surgery
Assistant Professor of Orthopaedics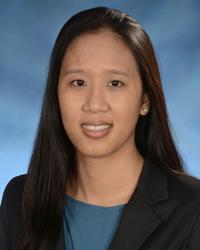 Watch Videos
UM Faculty Physicians, Inc.
Languages: English
Gender: Female
Locations
University of Maryland Orthopaedics Camden
351 West Camden Street
Suite 501
Baltimore,
MD
21201
Get Directions
University of Maryland Orthopaedics Columbia
5500 Knoll North Drive
Suite 100
Columbia,
MD
21045
Get Directions
About Me
Dr. Natalie Leong followed a path into medicine because she wanted a meaningful career in which she could get to know people from all walks of life. She chose sports medicine, specifically, because it lets her help people get back to doing the things they love.
"I will take the time and listen to you to, explain your diagnosis and your options and work with you to come up with the treatment plan that makes the most sense for your lifestyle. I am a conservative surgeon," she explains.
"That means I would recommend surgery only if it is truly needed. I believe in trying lower-risk options such as injections and physical therapy before recommending surgery, whenever appropriate."
She sees patients of all ages with knee and shoulder conditions — athletes and non-athletes alike. She performs minimally invasive knee procedures, all types of shoulder surgeries (including shoulder replacements) and ligament and tendon repairs throughout the body. Additionally, she uses regenerative medicine techniques, such as platelet-rich plasma (PRP) and stem cell therapy.
She trained at well-regarded programs such as Harvard Medical School, UCLA Orthopaedic Surgery and Rush Sports Medicine. While at Rush, she cared for professional athletes, including Chicago Bulls, White Sox and Chicago Fire players.
Dr. Leong runs a research lab at the University of Maryland School of Medicine that focuses on ligament and tendon tissue engineering and regenerative medicine. The lab looks at on biological solutions to ligament and tendon injuries, such as regrowing the anterior cruciate ligament (ACL) using a combination of stem cells and biodegradable scaffolds.
Medical School:
Harvard Medical School, 2011
Residency:
Ronald Reagan UCLA Medical Center, 2017
Fellowship:
Rush University - Sports Medicine, 2018
Certification:
American Board of Orthopaedic Surgery - Orthopaedic Sports Medicine, 2021

American Board of Orthopaedic Surgery - Orthopaedic Surgery, 2020
University of Maryland Medical Center Midtown Campus

University of Maryland Medical Center

UM Rehabilitation & Orthopaedic Institute
External Professional Relationships

A University of Maryland Department of Orthopaedics faculty member may have external professional relationships with health-care related businesses. These relationships often lead to the development of new treatments and therapies. The Department of Orthopaedics believes that transparency and honesty in the reporting of these relationships is essential to maintaining trust with our patients and mitigating any conflicts of interest or perceived conflicts that may arise.

For faculty who earn royalties on the sale of medical devices, no royalties are earned on any devices sold to patients or to hospitals that are part of the University of Maryland Medical System or in any other facilities where those faculty members treat patients.

All external professional relationships maintained by members of the University of Maryland Department of Orthopaedics are reviewed and approved in advance by the Dean of the University of Maryland School of Medicine (UM SOM) for conformance with UM SOM policies in regarding conflicts of interest, conflicts of commitment, and professionalism.

Dr. Leong disclosed the following external professional relationships:
•    None
•    View additional data at CMS Open Payments Data