Natalie Chilaka, MD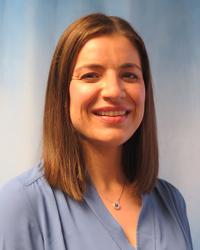 Specialties:
Available for Telemedicine Visits
Dr. Chilaka is an orthopedic trauma surgeon who specializes in fractures, commonly called "broken bones," and osteoporosis treatment.
She treats a wide spectrum of traumatic orthopedic conditions, including:
Upper extremity fractures (shoulder, upper arm, elbow, forearm and wrist fractures)
Lower extremity fractures (hip, thigh, knee, lower leg, ankle and foot fractures)
Intra-articular and peri-articular fractures (complex fractures that involve a joint)
Pelvis fractures
Nonunions and malunions (when a broken bone does not heal or heals in a poor position)
Tendon ruptures (including quadriceps, patella, Achilles and triceps tendon ruptures)
Dr. Chilaka also runs the UM BWMC Osteoporosis Clinic. Osteoporosis is a disease where the bones become brittle and weak, which makes it easier for them to break. The Osteoporosis Clinic offers tailored bone health care for people 49 years of age and older who have suffered a broken bone, and people of any age with known osteoporosis or at increased risk for developing osteoporosis.
Dr. Chilaka earned her undergraduate degree from Cornell University and her medical degree from Weill Cornell Medical College. She completed her residency in orthopedic surgery at the Harvard Combined Program in Boston, MA. Dr. Chilaka then completed a fellowship in orthopaedic trauma at Denver Health & Hospital Authority. Following training, Dr. Chilaka worked for several years at Yale-New Haven Hospital, a busy level 1 trauma center in Connecticut.
She joined the medical staff of UM BWMC in 2017. She started the UM BWMC Osteoporosis Clinic in 2019.
Gender: Female
Language(s): English
Affiliation(s):
UM Baltimore Washington Medical Center

Member of UM Baltimore Washington Medical Group
Medical School:
Weill Cornell Medical College, 2008
Internship:
Massachusetts General Hospital, 2009
Residency:
Massachusetts General Hospital, 2013
Fellowship:
Denver Health & Hospital Authority - , 2014
Certification:
American Board of Orthopaedic Surgery - Orthopaedic Surgery, 2016
BWMC Orthopaedic Surgery & Podiatry
255 Hospital Drive
Suite 207
Glen Burnie,
MD
21061
Get Directions