Mark V. Mishra, MD
Director of Clinical Research

Associate Director for UM Cancer Networks

Associate Professor of Radiation Oncology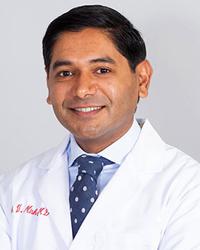 Specialties:
Available for Telemedicine Visits
Dr. Mishra, MD focuses on treatment of patients with tumors of the central nervous system and genitourinary tract, as well as breast cancer.
His research is centered on evaluating the comparative- and cost-effectiveness of new and complex radiation technologies, such as proton beam therapy, as well as evaluating novel uses of radiation therapy alone or in combination with other therapies.
He has received the American Society of Radiation Oncology (ASTRO) Comparative Effectiveness Grant and is the Comparative Effectiveness co-chair for two recently activated national phase III studies (NRG BN009 and NRG CC009) focused on identifying new treatment approaches for brain metastases. Dr. Mishra is also the principal investigator for two investigator-initiated trials at UMGCCC that evaluate the efficacy of combining laser interstitial thermal therapy with radiation for patients with a recurrent glioma and for patients with a newly diagnosed unresectable glioma.
He is an associate professor of radiation oncology at the University of Maryland School of Medicine and serves as the director of clinical research for the Department of Radiation Oncology. He is also vice-chair of the Greenebaum Comprehensive Cancer Center's Clinical Research Committee and as chair of Radiation Oncology Executive Academic and Advisory Council.
He is a graduate of the University of Cincinnati College of Medicine and completed his residency in Radiation Oncology at Thomas Jefferson University, where he served as chief resident. He completed a clinical research fellowship in the NIH Clinical Research Training Program and also completed the Program in Clinical Effectiveness at the Harvard T.H. Chan School of Public Health. As Director of Radiation Oncology Clinical Research, Dr. Mishra oversees all clinical trial activities for Radiation Oncology at UMGCCC and at affiliated practices across the state of Maryland. He serves as the UMGCCC Voting-Member Contact PI for NRG Oncology.
As a result of his clinical trial work at UMGCCC, he has been named as a recipient of the National Cancer Institute Cancer Center Investigator Team Leadership Award. His research has been supported by NIH, the Patient-Centered Outcomes Research Institute (PCORI), ASTRO, and the Keep Punching Foundation. He has served as a member of the PCORI Patient Engagement Advisory Panel and on national level committees for ASTRO, the American College of Radiology, and the American Board of Radiology. His research has resulted in more than 75 peer-reviewed publications with more than 1,100 citations to date. He has been recognized as a 'Top Doctor' by Baltimore magazine.
Gender: Male
Language(s): English
Affiliation(s):
UM Shore Regional Health - Dorchester/Easton

UM Upper Chesapeake Health

UM Baltimore Washington Medical Center

University of Maryland Medical Center

Member of UM Faculty Physicians, Inc.
Medical School:
University of Cincinnati College of Medicine, 2008
Internship:
Evanston Northwestern Hospital of McGaw Medical Center, 2009
Residency:
Thomas Jefferson University Hospitals, 2013
Certification:
American Board of Radiology - Radiation Oncology, 2014
Radiation Oncology UMH
22 South Greene Street
Baltimore,
MD
21201
Get Directions
Radiation Oncology - MPTC
850 West Baltimore Street
Baltimore,
MD
21201
Get Directions