Marcus F. Sciadini, MD
Professor of Orthopaedics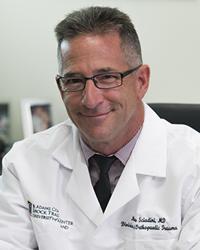 Specialties:
Orthopedic Trauma Surgery

Trauma Surgery
Marcus Sciadini, MD, is a board-certified orthopedic surgeon who specializes in orthopedic traumatology and complex fracture care. He has extensive experience in revision surgery for fractures that have not healed (nonunion) and those that have healed incorrectly (malunion), pelvis and acetabulum surgery, complex articular and periarticular fractures, and posttraumatic reconstruction. 

Dr. Sciadini earned his medical degree at Vanderbilt University School of Medicine in Nashville, Tennessee. He then completed an internship in general surgery, a residency in orthopedic surgery and a research fellowship at Vanderbilt University.

Dr. Sciadini continued his education with a fellowship at the world-renowned R Adams Cowley Shock Trauma Center in Baltimore, Maryland. He is now a professor at the University of Maryland School of Medicine, Department of Orthopaedics and Chief of the Department of Orthopaedics at the University of Maryland Medical Center Midtown Campus hospital.

Dr. Sciadini has developed several innovative techniques, including transfibular plating of distal tibial fractures and intra-articular osteotomy for medial tibial plateau fractures with lateral joint impaction. Daily, he is involved with the teaching of residents, trauma fellows and medical students at the R Adams Cowley Shock Trauma Center. 

His most recent research interests include the development of a surgical simulator for orthopaedic trainees, comparison of new, reprocessed, and damaged orthopaedic drill bits, sterilizing external fixators for surgery and radiographic determinants of early clinical failure after fixation of posterior wall acetabular fractures.

Dr. Sciadini is the author of more than 50 peer-reviewed scientific articles and book chapters on complex fractures, lower extremity injuries and upper extremity injuries. He has also presented his research at numerous local, national and international conferences.

Outside of the trauma center, Dr. Sciadini enjoys time with his wife and two daughters and keeps active with CrossFit, mountain biking and wakeboarding.
 
Gender: Male
Language(s): English; Spanish
Affiliation(s):
University of Maryland Medical Center Midtown Campus

University of Maryland Medical Center

Member of UM Faculty Physicians, Inc.
Medical School:
Vanderbilt University College of Medicine, 1992

Vanderbilt University School of Medicine, 1992
Internship:
Vanderbilt University Medical Center, 1993
Residency:
Vanderbilt University Medical Center, 1999
Fellowship:
University of Maryland Medical Center - Orthopaedic Trauma, 2000

Vanderbilt University Medical Center - Research Fellow, 1995

University of Maryland Medical Center - Orthopedic Traumatology, 2000
Certification:
American Board of Orthopaedic Surgery - Orthopaedic Surgery, 2002
External Professional Relationships

A University of Maryland Department of Orthopaedics faculty member may have external professional relationships with health-care related businesses. These relationships often lead to the development of new treatments and therapies. The Department of Orthopaedics believes that transparency and honesty in the reporting of these relationships is essential to maintaining trust with our patients and mitigating any conflicts of interest or perceived conflicts that may arise.

For faculty who earn royalties on the sale of medical devices, no royalties are earned on any devices sold to patients or to hospitals that are part of the University of Maryland Medical System or in any other facilities where those faculty members treat patients.

All external professional relationships maintained by members of the University of Maryland Department of Orthopaedics are reviewed and approved in advance by the Dean of the University of Maryland School of Medicine (UM SOM) for conformance with UM SOM policies in regarding conflicts of interest, conflicts of commitment, and professionalism.

Dr. Sciadini disclosed the following external professional relationships:
Stryker: Consulting relationship
Globus Medical: Consulting relationship
Globus Medical: Royalties
View additional data at CMS Open Payments Data
University of Maryland Orthopaedic Associates - Shock Trauma Outpatient Pavilion
22 South Greene Street
Baltimore,
MD
21201
Get Directions