Leah S. Millstein, MD
Assistant Professor of Medicine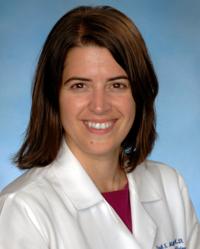 Specialties:
Pediatrics

Internal Medicine
Dr. Millstein attended the State University of New York at Buffalo for medical school before completing an internal medicine and pediatrics residency at Rainbow Babies and Children's Hospital and University Hospital at Case Western Reserve in 2005. She served as a fifth year chief resident for internal medicine and pediatrics at Rainbow Babies/Case before accepting a pediatric hospitalist position at Baltimore-Washington Medical Center in Maryland. She joined the University of Maryland in 2008 and is currently an assistant professor in both medicine and pediatrics.  She is board certified in both Internal Medicine and Pediatrics.  She is the Med/Peds Assistant Residency Program Director, and in 2011 she joined the pediatric education leadership team as the Associate Residency Program Director for Pediatrics.
Dr. Millstein is actively involved in both inpatient and outpatient internal medicine, inpatient pediatrics, and teaching of medical students and residents. Since joining the University of Maryland, Dr. Millstein has received the Ambulatory Medicine Teacher of the Year Award by the Department of Medicine and was a co-investigator in a national grant awarded by the Picker Foundation. Dr Millstein's current research interests include resident education, transitions of care, and quality improvement in primary care.
Gender: Female
Language(s): English
Affiliation(s):
University of Maryland Medical Center

Member of UM Faculty Physicians, Inc.
Medical School:
University at Buffalo State University of New York School of Medicine & Biomedical Sciences, 2001
Residency:
University Hospitals Case Medical Center, 2005
Certification:
American Board of Internal Medicine - Internal Medicine, 2006

American Board of Pediatrics - Pediatrics, 2005
University of MD Medical Group, PA
16 South Eutaw Street
Baltimore,
MD
21201
Get Directions
University of MD Medical Group, PA
22 South Greene Street
Baltimore,
MD
21201
Get Directions
University of MD Medical Group, PA
419 West Redwood Street
Suite 600
Baltimore,
MD
21201
Get Directions