Francesca Desiree Armstrong, MD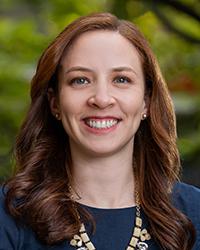 Francesca Armstrong, MD, is a general surgeon at UM St. Joseph Medical Center. As a general surgeon, Dr. Armstrong is trained in the latest minimally invasive laparoscopic and robotic surgery techniques, as well as traditional open surgery. Minimally invasive surgeries, both laparoscopic and robotic, offer several benefits to eligible patients, as they typically result in smaller incisions, smoother recovery and less scarring.
Dr. Armstrong focuses on a full range of common surgeries including but not limited to: :
Hernia repair (Inguinal and ventral hernias)
Appendix removal (appendectomy)
Gallbladder removal (cholecystectomy)
Surgical treatment of gastrointestinal (GI) disorders
Breast, skin and soft tissue lesions
Dr. Armstrong is a member of the Society of American Gastrointestinal and Endoscopic Surgeons (SAGES), the American College of Surgeons (ACS) and the American Medical Association (AMA).
A Love of Surgery and Helping Others
Dr. Armstrong has always wanted to pursue a career in which she could help people. She became interested in medicine in high school, particularly in surgery. She really enjoyed learning about anatomy and loved the idea of being able to fix medical conditions with surgery. Dr. Armstrong loves that surgery is always challenging, as every patient is unique.
Treating Patients Like Family
Dr. Armstrong treats her patients as she would want her family to be treated. She strives to make sure that her patients understand their disease process, as well as the treatment and alternatives she can offer. She believes having a thorough discussion with her patients to ensure they understand their options is very important to their outcome.  
Outside of her medical practice, Dr. Armstrong is a triathlete, and has completed four Ironman races. She also enjoys soccer, reading and knitting.
Gender: Female
Language(s): English
Affiliation(s):
UM St. Joseph Medical Center

Member of UM St. Joseph Medical Group
Medical School:
Louisiana State University School of Medicine in New Orleans, 2016
Residency:
LSU Health Shreveport, 2021
Certification:
American Board of Surgery - Surgery, 2021
UMSJMG General Surgery
7505 Osler Drive
Suite 303
Towson,
MD
21204
Get Directions