Carla S. Alexander, MD
Assistant Professor of Medicine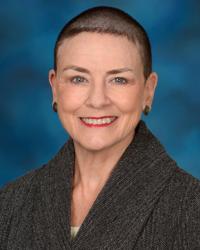 Specialties:
Internal Medicine

Medical Oncology
Dr. Alexander has cared for people with HIV/AIDS since the beginning of the epidemic. She is an internationally recognized expert in the area of Palliative and End-of-Life Care. Board certified and a Fellow of the AAHPM, she has practiced hospice and palliative care since 1986 and is a founding member of the American Academy of Hospice and Palliative Medicine (AAHPM), serving as President in 2000. She has taught elements of Palliative and End-of-Life care related to HIV/AIDS throughout the United States and Caribbean, Canada, Africa, Eastern and Western Europe, Ukraine, South America, and Asia.
Dr. Alexander joined the IHV in 1997 as an Assistant Professor of Medicine and Director of Palliative Care. She is currently Principle Investigator for a 3-year award for Implementation of Care and Support for retention in HIV care from the Patient-Centered Outcomes Research Institute (pcori.org). Prior to joining the University, she was Director of Clinical Affairs for Chase Brexton Health Services, Inc., a community-based facility that provided primary care for persons with HIV/AIDS. Later, she served as both National and International Medical Director for the National Hospice and Palliative Care Organization and participated in mentoring activities with the African Palliative Care Association (APCA). Her work in that area includes monitoring and evaluation of palliative care services in various African countries and advocacy for provision of appropriate medications for expert palliative care.
Dr. Alexander was the Senior Technical Advisor and Lead for Palliative Care and Support between 2004 and 2012 with the AIDS Relief Consortium funded by the President's Emergency Plan for AIDS Relief (PEPFAR). During this time she worked primarily in Tanzania, Kenya, Uganda, Rwanda, Malawi, Zambia, South Africa and Nigeria plus Haiti and Guyana in the Caribbean. These programs introduced the use of antiretroviral therapy and the implementation of chronic care strategies. She is currently refining a curriculum for HIV health workers that will enhance their ability to retain difficult to retain patients in HIV care.
Dr. Alexander authored or edited many publications including chapters on palliative care in A Guide to the Clinical Care of Women with HIV, A Clinical Guide to Supportive and Palliative Care in HIV/AIDS, and Clinical Challenges in HIV/AIDS. She was a Primary Author and Co-Chair of the working group for the Promoting Excellence in End-of-Life Care project entitled Integrating Palliative Care into the Continuum of HIV Care: an agenda for change with Recommendations to the Field. She is the recipient of numerous honors/awards including the Lifesongs (Community Fundraiser for HIV Services) First Humanitarian Award in Baltimore, Md.
Gender: Female
Language(s): English
Affiliation(s):
UM Rehabilitation & Orthopaedic Institute

University of Maryland Medical Center Midtown Campus

University of Maryland Medical Center

Member of UM Faculty Physicians, Inc.
Medical School:
University of North Carolina at Chapel Hill School of Medicine, 1979
Internship:
Medical University of South Carolina College of Medicine, 1980
Residency:
University of Maryland Medical Center, 1984

University of Maryland School of Medicine, 1982
Fellowship:
University of Maryland Medical Center - Medical Oncology, 1986