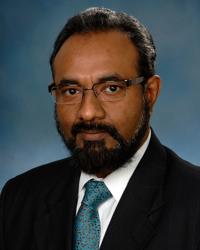 Dr. Lal is an associate professor of surgery and director of endovascular surgery. Prior to coming to the University of Maryland, Dr. Lal was on faculty at the University of Medicine and Dentistry of New Jersey - New Jersey Medical School (UM.D.NJ-NJMS). After completing medical school at All India Institute of Medical Sciences in Delhi, India, Dr. Lal spent two years in the Fogarty Research Fellowship program at the National Institutes of Health in Bethesda, M.D.. After his fellowship at NIH, he completed his surgical residency and vascular surgical fellowship at the UM.D.NJ-NJMS. Dr. Lal's clinical and research interests include carotid stenosis and lower extremity arterial occlusive disease. Currently, he is the director of operations and co-investigator on the Carotid Revascularization Endarterectomy Versus Stenting Trial (CREST), which compares the risks and benefits of the two major procedures for opening blocked neck arteries to restore blood flow to the brain. In addition, he serves on the Executive Committee of the American Venous Forum and as Chairman of the American Venous Registry.
Gender: Male
Language(s): Punjabi; Hindi
Affiliation(s):
University of Maryland Medical Center Midtown Campus

University of Maryland Medical Center

Member of UM Faculty Physicians, Inc.
Medical School:
All-India Institute of Medical Sciences, 1988

National Institutes of Health Clinical Center, 1994
Residency:
University of Medicine and Dentistry of New Jersey, 1999

All-India Institute of Medical Sciences, 1991
Fellowship:
University of Medicine and Dentistry of New Jersey - General Vascular Surgery, 2001