Bizhan Aarabi, MD
Professor of Neurosurgery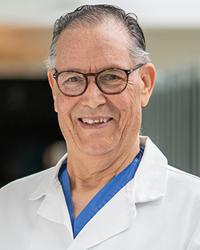 Specialties:
Available for Telemedicine Visits
I have always been fascinated with the human body and the brain. I remember in third-grade I dissected a bird looking for its internal organs, especially its brain. As I grew older, that interest in the brain only grew stronger, and I decided to make studying and treating the brain my career.
I treat patients with severe, traumatic head or spine injuries at the R Adams Cowley Shock Trauma Center. The sophisticated technology of this world-renown program allows us to assess conditions quickly and make life-saving decisions.
With my team of nurse practitioners and residents, we help patients through what can be one of the scariest times in their lives.
We may monitor patients for several days, and, if needed, perform surgery. For traumatic brain injuries, we are prepared to perform surgery immediately. For spinal injuries, the window is 11 hours.
Both traumatic brain injuries and traumatic spinal cord injuries are our focuses of research in the Department of Neurosurgery's Neurotrauma Division. For the past 20 years, we have published nearly 40 papers, which have received a high number of citations. We are funded by the Department of Defense and Industry who have requested us to participate in randomized clinical trials.
You can browse my publications on PubMed.
We have participated in several clinical trials, including:
Stem Cell in SCI
North American Clinical Trial Network (NACTN registry)
CORBIT (supported by NIH)
RISCIS (supported by AO Spine)
Gender: Male
Language(s): English; Persian (Farsi)
Affiliation(s):
University of Maryland Medical Center

Member of UM Faculty Physicians, Inc.
Medical School:
Pahlavi University School of Medicine, 1973
Internship:
John H. Stroger Jr. Hospital of Cook County, 1974

Nemazee Hospital, 1973
Residency:
Johns Hopkins Hospital, 1979
Fellowship:
Wellesley Central Hospital - Neurosurgery, 1980

University of Nebraska Medical Center - Neurosurgery, 1990

Hamilton Civic/Henderson General Hospitals - Neurosurgery, 1981
Certification:
American Board of Neurological Surgery - Neurological Surgery, 1981
Shock Trauma Associates, PA
22 South Greene Street
Baltimore,
MD
21201
Get Directions
University of MD Neurosurgery Associates, P.A.
22 South Greene Street
Baltimore,
MD
21201
Get Directions
University of MD Neurosurgery Associates, P.A.
419 West Redwood Street
Suite 410
Baltimore,
MD
21201
Get Directions