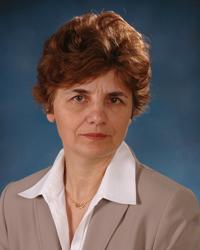 Violeta Rus, MD
Rheumatology
Associate Professor of Medicine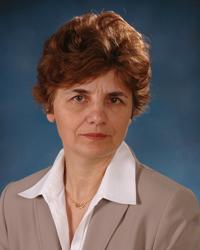 UM Faculty Physicians, Inc.
Available for Telehealth Visits
Languages: English,French
Gender: Female
Locations
UM Health Center - Rheumatology
16 South Eutaw Street
Floor 2
Baltimore,
MD
21201
Get Directions
University of Maryland Rehabilitation & Orthopaedic Institute Rheumatology
2200 Kernan Drive
Baltimore,
MD
21207
Get Directions
About Me
Dr. Rus' lab objective is to define the mechanisms that regulate (auto) ab mediated responses in lupus with the goal of developing immune based therapy which can modulate these responses.
Research is performed in both the human system and in the well characterized chronic graft-versus –host disease model of lupus like disease. Current studies are aimed at defining the in vivo role of TNF Related Apoptosis Inducing Ligand (TRAIL) in the development of the (auto)ab mediated immune response.
The focus of the research is on the role of TRAIL in (auto) atg specific clonal expansion, the persistence of the autoimmune response and on the in vivo manipulation of TRAIL-TRAIL R system as a potential therapeutic tool in lupus.
Medical School:
University of Medicine of Romania, 1979
Residency:
University of Medicine of Romania, 1982

St. Agnes Hospital, 1997
Fellowship:
University of Medicine of Romania - Connective Tissue/Rheumatology, 1989

University of Maryland School of Medicine - Research, 1995

University of Maryland Medical Center - Rheumatology, 1999
Certification:
American Board of Internal Medicine - Rheumatology, 1998
UM Rehabilitation & Orthopaedic Institute

University of Maryland Medical Center