Michelle N. Gonzalez-Garcia, MD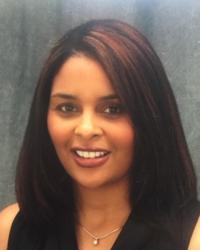 Specialties:
Obstetrics and Gynecology
"If you ask my family, they would tell you they knew I was going to be a doctor from the time I was a young child," said Dr. Michelle Gonzalez-Garcia, obstetrician–gynecologist (OB/GYN) at UM Charles Regional Medical Center (UM CRMC). According to Dr. Gonzalez-Garcia, although she did not come from a family with a medical background, it was clear since she was a child that she had an inquisitive mind, empathetic nature and desire to help others.
Dr. Gonzalez-Garcia discovered her passion for women's health care while attending medical school. "In medical school, as a third year medical student I did my rotation in OB/GYN, and I knew I found the specialty for me," says Dr. Gonzalez-Garcia. "Through OB/GYN I was able to find the perfect fit where I was able to provide women's health care, perform surgery, deliver babies, and have meaningful and truly life changing interactions with patients."
Dr. Gonzalez-Garcia has over 15 years of OB/GYN experience and says the one thing she likes most about working at UM CRMC is the interactions she has with patients. "As a mother of four, I am profoundly honored to be a part of this special experience for patients — I appreciate the opportunity to share in each patient's journey," says Dr. Gonzalez-Garcia.
Dr. Gonzalez-Garcia also notes that she enjoys working with the hospital personnel, and they are what make UM CRMC a good place to practice. "The staff is truly dedicated to helping this community and this is both inspiring and unique in health care," says Dr. Gonzalez-Garcia. "Just as I was honored to serve in the U.S. Air Force, I am honored to serve the community here."
Gender: Female
Language(s): English
Affiliation(s):
UM Charles Regional Medical Center

Member of UM Charles Regional Medical Group
Medical School:
University of Colorado School of Medicine, 2005
Internship:
Wilford Hall Medical Center, 2009
Residency:
San Antonio Uniformed Services Health Education Consortium, 2009

Wilford Hall Medical Center, 2009
Certification:
American Board of Obstetrics and Gynecology - Obstetrics and Gynecology, 2012