Nakia Renee Ware, CRNP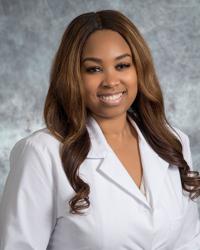 Specialties:
Obstetrics and Gynecology
Available for Telemedicine Visits
Learn more about Nakia Ware MSN, WHNP-BC, her philosophy on providing medical care to her patients, and why she might be the right provider for your medical needs.
Why did you pursue a career in medicine, and why did you choose your particular specialty?
Ever since I can remember, I have had an interest in medicine. Growing up I use to watch the show "Birth Day" on Discovery Health imagining one day that I would be able to deliver babies. It wasn't until I grew older and pursued a career in nursing that my passion began to shift. While working in labor and delivery I realized that women lacked the knowledge of their bodies and the power it possessed, no matter the age or educational background. That's where my passion became women's health and educating women of all ages.
What types of conditions do your patients have, and what kinds of patients do you see?
The types of patients that I see on a daily basis can range from day to day. I see patients for menopause, irregular menses, abnormal uterine bleeding, breast screening, contraception management, prenatal care, postpartum care, management of PCOS and  well women exams to name a few.
Do you perform any particular procedures or practice in any centers that you'd like to highlight?
IUD insertion/removal, Nexplanon insertions/removal, endometrial biopsies, pelvic exams, Pap smears, breast exams, STD screenings, ultrasounds, sexual health education, general women's health care, and cervical polyp removal
Why do you think patients should come to you and your team for treatment—what are some differentiating factors?
When coming to get care with our practice, our patients will be getting quality and trusted care. I pride myself on building lasting relationships with each and every one of my patients. My goal is to educate each patient and provide optimal care. I strive to provide holistic care with an emphasis on educating women and adolescences on their reproductive health to improve knowledge and understanding. We work together as a team with the common goal to provide the best care possible for all of our patients.
Do you have a specific treatment philosophy that you'd like to share with prospective patients?
My philosophy when treating my patients is to allow them to be a part of their care. In order to provide great care you must listen to your patients concerns and allow them to be included in the decision making process. Education is also key. If you explain to your patients their diagnosis and recommendations clearly, you not only inform them but you will gain trust, which is important to have in any health care provider or member of your health care team.
Have you received any major awards or do you belong to any societies that you'd like to highlight?
I am a member of Alpha Kappa Alpha Sorority Inc as well as a member of National Practitioner of Women's Health (NPWH)
Gender: Female
Language(s): English
Affiliation(s):
Medical School:
University of Cincinnati College of Medicine, 2017
Certification:
National Certification Corporation - Nurse Practitioner, 2019
Obstetrics & Gynecology | UM Charles Regional Medical Center
605 Charles Street
La Plata,
MD
20646
Get Directions