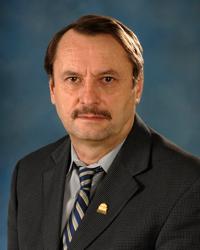 Specialties:
Available for Telemedicine Visits
Dr. Horea Rus sees patients one day a week in the Neurology Ambulatory Center on Monday afternoons. To make an appointment please call 410-328-4323.

Dr. Rus is a professor with the department of neurology at the University of Maryland Medical School. In addition tp seeing patients, he runs a research laboratory. His work is funded by the National Institute of Health, Veterans Administration and the National Multiple Sclerosis Society.

Dr. Rus's specific laboratory research lies in understanding the mechanisms of oligodendrocyte cell death through a process called apoptosis.

Oligodendrocytes are special cells in the brain that make myelin. Myelin is wrapped around nerve fibers and helps increase the speed of nerve transmission. It is felt that injury or death of oligodendrocytes contributes to the MS disease process.

In MS there are periods of time when the disease is most active. The hallmark of active MS is inflammation. During the active, inflammatory phase of multiple sclerosis, oligodendrocytes undergo apoptosis (or cell death). There are fewer oligodendrocytes, therefore, less ability to make myelin. This can contribute to the demyelinating process and the accumulation of disability.
Dr. Rus and his colleagues have shown that proteins once thought to only contribute to the destructive process in MS also may contribute to the prevention of oligodendrocyte death. The lab recently discovered a new protein (RGC-32) involved in activation of cell cycle in oligodendrocytes. They are now searching for ways to find if targeting of this protein might represent a potential treatment for MS.

View Dr. Hus' selected publications and invited reviews (out of 110 published papers)
Gender: Male
Language(s): English; Romanian; French
Affiliation(s):
University of Maryland Medical Center

Member of UM Faculty Physicians, Inc.
Medical School:
University of Medicine of Romania, 1992
Internship:
Univ of Medicine & Pharmacy, Cluj Napoca, 1985
Residency:
St. Agnes Hospital, 1999

Cantacuzino Institute, 1988

University of Maryland Medical Center, 2002
Fellowship:
University of Maryland School of Medicine - Pathology, 1993

University of Maryland Medical Center - Neuro, Multiple Sclerosis, 2003
UM Neurology Care Center
16 South Eutaw Street
Suite 300
Baltimore,
MD
21201
Get Directions