Elizabeth M. Nichols, MD
Associate Professor of Radiation Oncology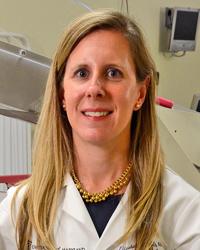 Specialties:
Breast Radiation Oncology

Gynecologic Radiation Oncology

Radiation Oncology
Dr. Nichols is an Associate Professor and Clinical Director of the University of Maryland Department of Radiation Oncology

She is also the chair of the GammaPod Consortium, a community of medical institutions dedicated to research with the GammaPod - a device developed at the University of Maryland for treating early stage breast cancers. She also has experience combining these with hyperthermia and re-irradiation. Dr. Nichols' areas of focus are on women's cancers: breast and gynecologic malignancies.

Dr. Nichols treats patients with brachytherapy, proton therapy and photon therapy.

She did her undergraduate education at Duke University followed by medical school at the University of Maryland. Her internship and residency in radiation oncology were also completed at the University of Maryland. Dr. Nichols treats a variety of cancers and her clinical research interests focus on breast cancer and gynecologic cancer.
Gender: Female
Affiliation(s):
UM Baltimore Washington Medical Center

University of Maryland Medical Center

Member of UM Faculty Physicians, Inc.
Medical School:
University of Maryland School of Medicine, 2008
Internship:
University of Maryland Medical Center, 2009
Residency:
University of Maryland Medical Center, 2013
Certification:
American Board of Radiology - Radiation Oncology, 2014