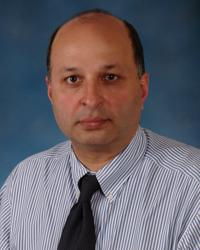 Ashraf Z. Badros, MBCHB
Hematology Oncology
Professor of Medicine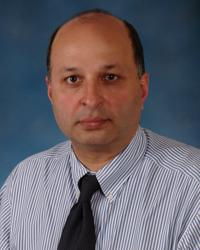 UM Faculty Physicians, Inc.
Available for Telehealth Visits
Languages: English
Gender: Male
Locations
Stoler Outpatient Cancer Clinic
22 South Greene Street
Floor 1
Baltimore,
MD
21201
Get Directions
About Me
Dr. Badros has extensive clinical experience in Bone Marrow Transplantation with special interest in multiple myeloma. He was involved in the initial trails of thalidomide and has conducted many clinical trials for treatment of relapsed and refractory multiple myeloma. Dr. Badros research has focused on evaluation of immunological approaches to eradicate residual myeloma cells in the high-risk setting following autologous stem cell transplantation using natural killer (NK) and interleukin -2 (IL-2) activated cells and non-myeloablative allogeneic donor grafts.
Dr. Badros is involved in the development of targeted novel therapeutics. He has completed a gene therapy trial using G-3039 ""Bcl-antisense."" He evaluated the use of the proteosome inhibitor ""bortezomib"" in the newly diagnosed myeloma patients and evaluated the effects of bortezomib on stem cell. Currently, Dr. Badros is evaluating various combinations of novel therapies in multiple myeloma such as Lenalidomide and histone deacetylase inhibitors (SAHA) in relapsed myeloma patients alone and in combinations with dexamethasone and/or bortezomib.
Medical School:
Ain Shams University Faculty of Medicine, 1986

New York Downtown Hospital, 1990
Internship:
Ain Shams University Faculty of Medicine, 1987
Residency:
Harbor Hospital, 1993

Ain Shams University Faculty of Medicine, 1989
Fellowship:
Roswell Park Cancer Institute - Hematology/Oncology, 1994

Georgetown University Medical Center - Oncology, 1996
Certification:
American Board of Internal Medicine - Medical Oncology, 1995
University of Maryland Medical Center