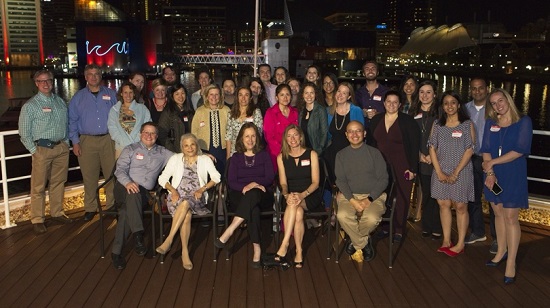 The broad foundation of training in Internal Medicine and Pediatrics have allowed our graduates to enter a variety of career paths.
Over half of our graduates are practicing primary care in both Medicine and Pediatrics.
A number of our alumni completed or are currently doing fellowships in the following specialties:
Allergy/Immunology
Cardiology
Critical Care
Endocrinology
Infectious Disease
Nephrology
Rheumatology
Other fields our graduates have entered include attending in ER/urgent care settings and becoming hospitalists.
Alumni Database
Class of 2021
Chelsea Goodier: Internal Medicine/Pediatrics Primary Care (Mercy Medical Center, Baltimore, MD)
Emily Xiao: Adult Cardiology Fellowship (University of Rochester Medical Center, Rochester, NY)
Kathryn Tobin: Clinical Informatics Fellowship (The Ohio State University Wexner Medical Center and Nationwide Children's Hospital, Columbus, OH)
Mihika Sathe: Internal Medicine/Pediatrics Primary Care, HIV primary Care (Inova Health Systems, Annandale, VA)
Class of 2020
Sowmya Arja: Allergy/Immunology Fellowship (University of California Davis, Sacrament, CA)
Carlo Foppiano Palacios: Adult Infectious Diseases Fellowship (Yale University Hospital, New Haven, CT)
Eric Lemmon: Academic Internal Medicine Hospitalist (University of Maryland Medical Center, Baltimore, MD)
Casey Mabry: Internal Medicine/Pediatrics Primary Care with Focus on Maternal/Child Health (St. Agnes Medical Group, Baltimore, MD)
Class of 2019
Katina Christopher: Internal Medicine/Pediatrics Primary Care (St. Agnes Medical Group, Baltimore, MD)
Clare Coda: Academic Internal Medicine/Pediatrics Primary Care (UCLA, Los Angeles, CA)
Jessica Lee: Academic Internal Medicine Primary Care (University or Maryland Medical Center, Baltimore, MD)
Alissa Werzen: Adult Infectious Diseases Fellowship (University or Maryland Medical Center, Baltimore, MD)
Class of 2018
Michael Cafarchio: Internal Medicine/Pediatrics Palliative Care Fellowship (Johns Hopkins University, Baltimore, MD)
Rebecca Krey: Global Health Fellowship (Harvard University/Boston Children's Hospital, Boston, MA)
Paige Luneburg: Academic Internal Medicine/Pediatrics Hospitalist (University or Maryland Medical Center, Baltimore, MD)
Joel (Jock) Moore: Sports Medicine Fellowship (East Carolina University, Greenville, NC)
Class of 2017
Erica Delbecq: Academic Internal Medicine/Pediatrics Hospitalist (MD Anderson Cancer Center/Texas Children's Hospital, Houston, TX)
Katelyn Donohue: Academic Internal Medicine Hospitalist/Pediatric Emergency Medicine (University or Maryland Medical Center, Baltimore, MD)
Jessica Durkee-Shock: Allergy/Immunology Fellowship (National Institutes of Health, Bethesda, MD)
Mary (Katie) Eckerle: Academic Internal Medicine Hospitalist (Indiana University Health, Indianapolis, IN)
Class of 2016
Rowan Hurrell: Internal Medicine Hospitalist (Alaska Native Medical Center, Anchorage, AK)
Dara Farber: Academic Internal Medicine/Pediatrics Hospitalist (University of Maryland Medical Center, Baltimore, MD)
Ashley Laleker: Adult Infectious Disease Fellowship (University of Maryland Medical Center, Baltimore, MD)
Stefanie Mason: Pulmonary and Critical Care Fellowship (Harvard University/Brigham and Women's Hospital, Boston, MA)
Class of 2015
Lisa Davidoff: Academic Internal Medicine/Pediatrics Primary Care (Loyola Medical Center, Chicago, IL)
Caleb Nannes: Pediatric Hematology/Oncology Fellowship (Duke Children's Hospital, Durham, NC)
Marc Heikens: Internal Medicine/Pediatrics Primary Care (Kaiser Permanente, San Diego, CA)
Windsen Pan: Academic Internal Medicine/Pediatrics Primary Care (University of Texas Medical Branch, Galveston, TX)
Class of 2014
Nidhi Goel: Academic Internal Medicine/Pediatrics Hospitalist (University of Maryland Medical Center, Baltimore, MD)
Torie Grant: Allergy/Immunology Fellowship (The Johns Hopkins Hospital, Baltimore, MD)
Tina Gupta: Global Health Scholar (University of Chicago, Chicago, IL)
Ashley Kinder: Internal Medicine/Pediatrics Primary Care (Seton Medical Group, Elkridge, MD)
Class of 2013
Sarah Goldberg: Pediatric Cardiology and Cardiovascular Critical Care Fellowship (Harvard University/Brigham and Women's Hospital, Boston, MA)
Preeti Mehrotra: Pediatric Infectious Disease Fellowship (Boston Children's Hospital, Boston, MA)
MacKenzie Short: Internal Medicine Hospitalist (Cone Health Systems, Greensboro, NC)
Winnie Szeto: Gastroenterology Fellowship (University of Miami)
Class of 2012
Owen Debowy: Internal Medicine/Pediatrics Primary Care (Foxboro Medical Center for Women's and Family Health, Foxboro, MA)
Miriam S. Lender: Internal Medicine/Pediatrics Primary Care (Inova Medical Group, Gainesville, VA)
Jennifer Prabhu: Internal Medicine/Pediatrics Primary Care (Seton Medical Group, Ellicott City, MD)
Toni Biskup: Emergency International Medicine Fellowship (University of Chicago, Chicago, IL)
Class of 2011
Dawn Beckman: Internal Medicine/Pediatrics Primary Care (Berkeley, CA)
Janell Sherr: Allergy/Immunology Fellowship (Stanford University, Palo Alto, CA)
Jonathan Snyder: Internal Medicine/Pediatrics Primary Care (North Shore Medical Center, Beverly, MA)
Christopher Watson: Internal Medicine/Pediatrics Hospitalist (Maryland Inpatient Care Specialists, Easton, MD)
Class of 2010
Veronica Linares: Internal Medicine Primary Care (Adventist Health Care, Montgomery Village, MD)
Amy Oyler: Internal Medicine/Pediatrics Hospitalist (Frederick Memorial Hospital, Frederick, MD)
Ethel Weld: Infectious Diseases Fellowship (The Johns Hopkins Hospital, Baltimore, MD)
Jay Wong: Internal Medicine/Pediatrics Primary Care (Northwell Health, New York, NY)
Class of 2009
Robert Boughan: Internal Medicine/Pediatrics Primary Care (Lutherville Personal Physicians, Lutherville, MD)
Mercedes Quinones: Rheumatology Fellowship (University of Maryland Medical Center, Baltimore, MD)
Kathryn Strain: Internal Medicine/Pediatrics Primary Care (Johns Hopkins Community Physicians, Odenton, MD)
Lee-Ann Wagner: Academic Internal Medicine Hospitalist (University of Maryland Medical Center, Baltimore, MD)
Class of 2008
Mark Davino: Internal Medicine/Pediatrics Primary Care (Johns Hopkins Community Physicians, Odenton, MD)
Manjula Gunawardane: Internal Medicine Hospitalist (Alta Bates Medical Center, Berkeley, CA)
Robert Habicht: Academic Internal Medicine/Pediatrics Hospitalist (University of Maryland Medical Center, Baltimore, MD)
Jeanne Martin: Internal Medicine/Pediatrics Primary Care (Athens Regional Health System, Athens, GA)
Class of 2007
Stephen Abbott: Infectious Diseases Fellowship (Georgetown University Hospital, Washington, DC)
Devang Patel: Infectious Diseases Fellowship (University of Maryland Medical Center, Baltimore, MD)
Purvee Shah: Allergy/Immunology Fellowship (Henry Ford Hospital/Wayne State University, Detroit, MI)
Wen-Yee Tsai: Endocrinology Fellowship (Tufts Medical Center, Boston, MA)