Vontrese L. Warren, CRNP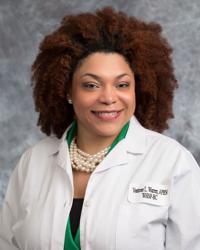 Specialties:
Obstetrics and Gynecology
What drew you to the practice of medicine and in particular women's health care?
For as long as I can remember, I've always had a strong interest in practicing and pursuing medicine as a career. Some of my earliest memories are of me playing as the ER provider on a CDROM game my Dad bought me, reading biographies like Gifted Hands written about Ben Carson and learning about Henrietta Lacks. 
Learning about Henrietta Lacks was the spark that leads me to learn more about the reproductive health disparities among women of color. Add that with the fascination I developed about the miracle of childbirth and women's health became my passion. 
What do you like most about your practice?
What I like most about my practice is having the opportunity to teach women, men, and children about their reproductive health. In my experience, I've found that a large number of people in our communities have inaccurate information or have no clue about their reproductive health. I take pride in serving in a capacity to help our communities learn and understand more about themselves so we can all live healthier lifestyles. 
What factors made you decide that Charles Regional would be a good place to practice?
Before coming to Charles Regional, I co-owned a reproductive healthcare practice in an urban community that didn't have specialized women's health care for miles; a place, like most urban areas, that accessible healthcare was needed. When I moved to the DMV area a little over a year ago, there were many opportunities offered, however, none that I felt were right for me. When I interviewed with Charles Regional, I felt the same comfort, compassion, and excitement as I did when I had my practice, which in turn made me feel that this opportunity would be the perfect fit.
Are there related past experiences you might like to share with your patients?
My past experiences with patients have helped mold me for my new patient relationships. My experiences have always been one of continuous learning. I've enjoyed educating, building trust and having a great rapport with my patients over the years and I look forward to continuing this journey here at Charles Regional.
Gender: Female
Language(s): English
Affiliation(s):
UM Charles Regional Medical Center

Member of UM Charles Regional Medical Group
Medical School:
University of Cincinnati College of Medicine, 2014
Certification:
National Certification Corporation (NCC) - Women's Health Care NP, 2014
University of Maryland Charles Regional Medical Group Women's Health Waldorf
177 Saint Patricks Drive
Suite 101
Waldorf,
MD
20603
Get Directions