Patricia Joele Raymond, CRNP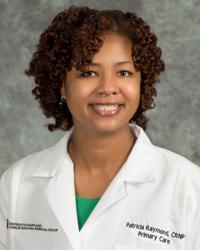 Why did you pursue a career in medicine, and why did you choose your particular specialty?
I wanted to be a doctor when I was a child because I wanted to help people. I chose the field of nursing because the nurse practitioner track would allow me the opportunity to help people.
What types of conditions do your patients have, and what kinds of patients do you see?
As an Adult-Gerontology Primary Care Nurse Practitioner, I am certified to care for patients who are 15 years old to death. In primary care, patients present with chronic health conditions like diabetes, high blood pressure, and low thyroid. I have also cared for patients during acute or urgent episodes like upper respiratory tract infections, strep throat, influenza, and new diagnoses of diabetes, high cholesterol, and high blood pressure.
Do you perform any particular procedures or practice in any centers that you'd like to highlight?
I perform physicals, preoperative physicals, pap smears, vaginal swabs to check for infections, breast exams, nasal swabs, throat swabs, intramuscular injections, and subcutaneous injections.
Why do you think patients should come to you and your team for treatment—what are some differentiating factors?
UMMS is a large entity that will give the patient access to every single specialty. I am compassionate, love to teach, and believe in caring for the patient holistically. I am excited to join this team.
Do you have a specific treatment philosophy that you'd like to share with prospective patients?
I believe if you teach the patient about their disease process, there is a high chance of compliance with the treatment plan. We can have the best outcome when we work together.
Gender: Female
Language(s): English
Affiliation(s):
UM Charles Regional Medical Center

Member of UM Charles Regional Medical Group
Medical School:
Walden University, 2017

Howard University, 2009

State University of New York at Oswego, 2003
Certification:
ANCC - American Nurses Credentialing Center - Adult Gerontology Primary Care Nurse Practitioner, 2018
University of Maryland Charles Regional Medical Group Family Practice Laplata
5 North La Plata Court
Suite 101
La Plata,
MD
20646
Get Directions
University of Maryland Charles Regional Medical Group Primary Care- Bryans Road
3145 Marshall Hall Road
Bryans Road,
MD
20616
Get Directions