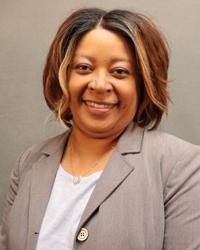 Specialties:
Counseling

Marriage and Family Counseling
Available for Telemedicine Visits
As a trauma-informed family therapist, Maya Harris helps individuals, couples and families manage various mental health conditions, including anxiety, attention-deficit/hyperactivity disorder (ADHD), bipolar disorder, depression and post-traumatic stress disorder (PTSD). She uses practical, evidence-based therapeutic approaches—including attachment theory, cognitive behavioral therapy, intergenerational family therapy and interpersonal therapy —to help patients achieve better mental health and a more satisfying quality of life.
Harris' expertise in multi-generational trauma is rooted in the idea that your beliefs, emotions and thoughts, along with the level of calm in your central nervous system, can influence your experiences, your family and your community for generations to come. She promotes self-calming techniques—such as guided imagery and mindfulness meditation for relaxation—in helping patients achieve optimal well-being.
Language(s): English
Affiliation(s):
Medical School:
Northcentral University, 2017

Howard University, 1999
UMCMG Bw Psych Hanover
7556 Teague Road
Suite 450
Hanover,
MD
21076
Get Directions