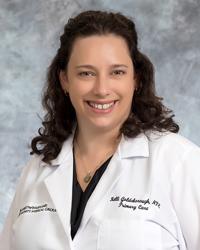 Kelli Hill Goldsborough, CRNP
Wound Care, Family Medicine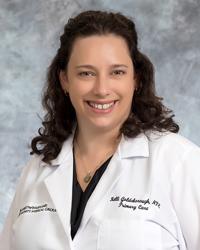 UM Charles Regional Medical Group
Available for Telehealth Visits
Languages: English
Gender: Female
Locations
University of Maryland Charles Regional Medical Group Family Practice Laplata
5 North La Plata Court
Suite 101
La Plata,
MD
20646
Get Directions
About Me
Learn more about Kelli Goldsborough, her philosophy on providing medical care to her patients, and why she might be the right provider for your medical needs.
Why did you pursue a career in medicine, and why did you choose your particular specialty?
I like to help people, and in primary care, I can help prevent health problems. I like the variety that comes with this particular field.
What types of conditions do your patients have, and what kinds of patients do you see?
In my current practice setting, we see late adolescence through geriatric, usually as children are transitioning from pediatrics to adult health. I complete routine preventative health screening for early identification of health conditions and management of chronic disease, as well as episodic sick visits.
Do you perform any particular procedures or practice in any centers that you'd like to highlight?
As part of the UMCRMG, I have the opportunity to spend one day a week in the local wound care center, which I find very rewarding. There is an overlap in the primary care aspect and wound healing. In the primary care setting, I specialize in all screening procedures, such as well woman exams, adult physicals, and physical exams for school participation in sports.
Why do you think patients should come to you and your team for treatment—what are some differentiating factors?
I pride myself in including the patient in the decision making for managing their care. I find that if patient's are active participants that feel they have a choice in the treatment plan, there is greater adherence.
Do you have a specific treatment philosophy that you'd like to share with prospective patients?
Mostly that the patient is an active participant in their own healthcare and the goal is always the prevention and early treatment of disease versus trying to manage the complications of uncontrolled chronic illness.
Have you received any major awards or do you belong to any societies that you'd like to highlight?
I recently was voted to the Volunteer Board of Directors at Health Partners in Waldorf, Maryland. I also belong to MAAPC (Maryland Association of Advanced Practice Clinicians), Associate of Nurse Practitioner Support – Charter Member, AANP member, Certified Case Manager. I am certified for Family Practice Nursing through the AANP. I volunteer with my local rescue squad for infection control.
Listen to a Podcast
Medical School:
Purdue University Global, 2018
Certification:
American Academy of Nurse Practitioners - Nurse Practitioner, 2018