Hayley Hoffman, CNM
Instructor of Obstetrics, Gynecology and Reproductive Sciences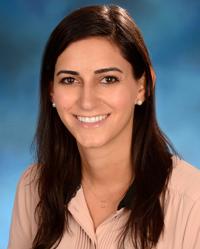 Hayley Hoffman is a certified nurse midwife. She is passionate about providing her patients with a personalized midwifery experience and is committed to helping them have a positive pregnancy and birth experience.
Hoffman has been a board-certified lactation consultant since 2017 and continues to provide lactation consult services at women's health offices. Her passion is helping families during the transition to parenthood and helping them achieve their feeding goals. She joined the faculty at University of Maryland School of Medicine's (UMSOM) Department of Obstetrics, Gynecology and Reproductive Sciences in October 2014 and has grown to love the women and families she cares for in the Baltimore area.
Hoffman participates in the Centering in Pregnancy model of care and has also helped run a specialized diabetes program in a pregnancy group. She enjoys teaching medical, midwifery and nursing students and residents at UMSOM. She completed her undergraduate degree at Yeshiva University in New York City and then went on to complete an accelerated nursing program at New York University, also in New York City. She worked as a nurse in women's health before returning to New York University to complete her master's degree in nurse midwifery.
In her free time, Hoffman volunteers as high school sexual health/sexually transmitted infection (STI) awareness instructor. She is on the Baby Friendly steering committee and is passionate about helping the Department of Obstetrics, Gynecology and Reproductive Sciences move toward its goal of achieving designation as a Baby Friendly hospital in the near future.
Gender: Female
Language(s): English
Affiliation(s):
University of Maryland Medical Center Midtown Campus

University of Maryland Medical Center

Member of UM Faculty Physicians, Inc.
Undergraduate:
New York University School of Medicine - , 2008
Medical School:
New York University School of Medicine, 2014
Certification:
American Midwifery Certification Board - OB/GYN, 2014
UM Women's Ctr Penn Street
120 Penn Street
Baltimore,
MD
21201
Get Directions
UM Women's Health Baltimore Ste 500
419 West Redwood Street
Suite 500
Baltimore,
MD
21201
Get Directions